Daily Archives:
January 5, 2018
Jan really relished her first night back in her own bed. She's getting around better and better all the time.
---
---
But her favorite thing was to be able to take a shower again, the first one since Monday morning before she got sick.
About 12:30 Jan got a call from Clear Lake Regional Hospital asking about her recent stay, and also giving her the login info for MyHealthOne, the hospital website area that has shows all of the tests done and the results, procedures done, and diagnoses.
Really helpful for Jan since she likes to document everything. We also got the phone number of her urologist so she can set up her appointments for next Wednesday and Friday.
About 4pmwe headed out for dinner at Phở 20 and then HEB for some supplies.
This visit to Phở 20 we both went for something a little different. Or course we did start out with our favorite House Crunch Salads.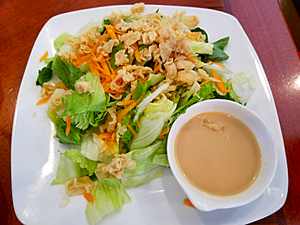 Then, both wanting soup of some kind, we got the White Meat Chicken Phở with added veggies.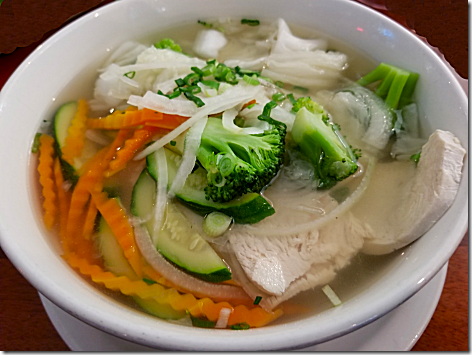 Normally their phở comes with the broth, the slices of white meat chicken, and rice vermicelli noodles. Then there's the garnish on the side.
---
---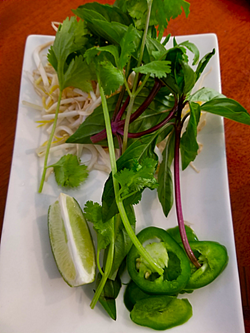 This gives you jalapenos, cilantro, Thai basil, bean sprouts, and squeeze of lime juice. All great additions.
After tonight this phở has become my new favorite dish here. Well, along with the House Crunch Salad, or course. I've always liked soups, Hot & Sour at King Food, Chicken Tortilla Soup at Monterey's, etc., so this is a great addition to my choices.
One thing kind of interesting about Jan's stay was the nurse anesthesiologist who came by on Tuesday to put a stent in for the anesthesia for Jan's procedure the next day.
Just talking, she ask if we were from around here. And when I told her that we had a house here, but that we were really full time RV'ers. She turned around with a big smile and gave me a fist bump, saying, "So are we."
Turns out she's a contract nurse. She and her husband are semi-snowbirds, spending summers in the New England area and winters down south. But pretty every season is spent in a different area of the country. Then where ever they are, she has no problem getting a job at a local hospital.
Neat!
Looks like the weather this weekend will be nice enough for me to reinstall my rear awning and then take down the big one on the passenger side to take over to Sundowner and pick up the other rear one,
---
---

The Headline of the Day: There are 340 canine stylist in Hollywood.
---

Thought for the Day:
"Great Spirits often encounter violent opposition from mediocrities. The latter cannot understand it when a man does not thoughtlessly submit to hereditary prejudices but honestly and courageously uses his intelligence." — Albert Einstein
fgssfg