Daily Archives:
January 28, 2018
After a quiet morning, about 1pm Jan and I drove up to see Brandi and Lowell's new house in Katy since they got moved in last week. Since they dropped over a thousand square feet from their old house to this one, they've got a lot of leftover furniture that they've going to have to put in storage for a while, while they'll spend the next year looking for a new one in the same general area
---
---
About 3:15 we all headed over to the La Centerra area to have dinner at a new place called Dish Society Their claim to fame is being a farm to grill restaurant using as much local supplies as they can.
Lowell had the Shrimp and Grits, while Brandi had the Citrus Glazed Salmon. Jan had the Grilled Chicken Breast with Balsamic Bacon Brussels Sprouts and Mashed Sweet Potatoes.
I had the Chicken Make Your Own Salad where you choose your own ingredients from a list of about 30, including Sunflower Seeds, Candied Pecans, and Goat Cheese.
All really good, but you don't get any photos because I left my phone at home.
When we were in Apache Junction last March and April we visited our other favorite farm to grill place, and in this case the farm is a little closer, as in right out the backdoor, so I thought I do a rerun of that .
---
Leaving Wal-Mart, we made the 20 minute run over to Gilbert to have an early dinner at Joe's Farm Grill, another of our favorite places here in the Apache Junction area, and also featured on Triple D with Guy Fieri.

We've eaten here a number of times, including with our friend's Nick and Terry Russell, and it's always been great.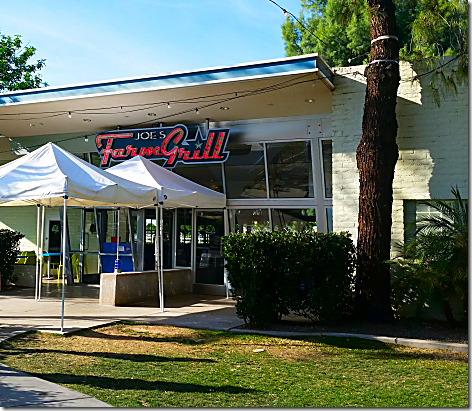 And today was.certainly no exception.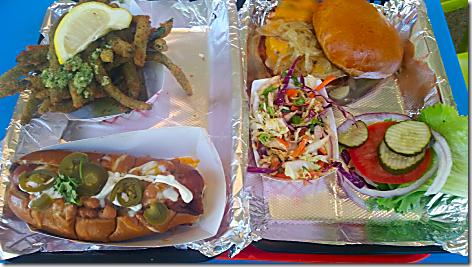 We each got our favorites, with Jan's Grilled Chicken Sandwich with Cheese, Grilled Onions and Avocado, along with a side of their Asian Slaw on the right, while I got the Sonoran Dog with a side of their Fried Green Beans with Pesto on the left. The green beans are fantastic and big enough to share.
---
---
And of course we couldn't leave out a big glass of their homemade Strawberry Lemonade, made from strawberries and lemons grown right here on the property.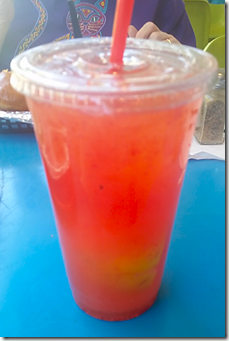 In fact, much of the fruits and vegetables used in the restaurant are grown right here on the adjacent farm. And actually the restaurant itself was built around the family home built in the 1960's.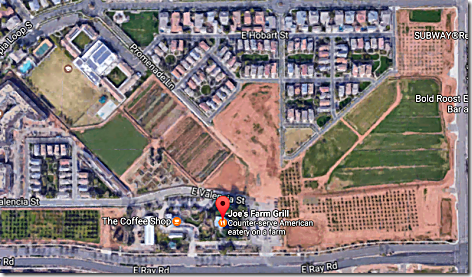 All of the brown and green areas are the farmland next to the restaurant.

And here's our 2nd visit, right before we left for Las Vegas.
---
After having tried the Garlic Pesto Fried Green Beans last time, and loving the pesto, Jan got the Pesto Chicken Sandwich with Swiss, Roasted Red Pepper, Grilled Mushrooms, and farm-made Pecan Pesto, as well as another order of the Pesto Green Beans for us to share.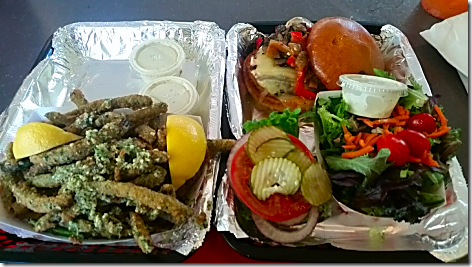 While instead of my usual Sonoran Dog, I got the Gouda Garlic Bacon Burger Stack.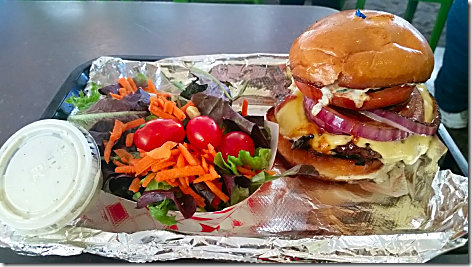 Made with half pound THICK burger (all natural, fresh, chuck, cooked pink),bacon, roasted garlic, imported Gouda cheese, grilled red onion, beefsteak tomato, pickles, house made Caesar dressing, on a toasted bun, it was a complete feast. In addition we both got salads as our sides.
---
Wrapping up, as we were driving up to Brandi's, minus my phone, I got to thinking that if I did have car trouble, I couldn't call ANYBODY, even if I borrowed someone else's cell, or used a payphone. I no longer knew anybody's phone numbers.
I couldn't call Brandi, Chris, our SafeRide Road Service, or anyone I knew. So I'm going to print out a list of important numbers and keep it in my wallet.
Now if I can just remember my wallet.
---
---

The Word of the Day is: ad absurdum
---

Thought for the Day:
If you need to be a lawyer to know the law, then the defect is in the law, not in the citizenry.
adfgsdf