Daily Archives:
January 24, 2018
I went into work this morning expecting a nice, quiet morning. I had a bunch of website and catalog price updates to catch up on, so an easy day.
---
---
But when I got there I found they had forgotten to tell me that I needed to a post card mail-out ready to go to the printer next Monday morning, so it can be mailed out Wednesday, using the address list I also have to clean up, eliminating any bad addresses. All this for a month-long sale. They have another sale coming up in July, that one I knew about, but this one was a complete surprise.
So I was quickly elbows deep in my graphics design program coming up with a nice looking card. I got far enough along that I'll be able to finish it up on Friday with no problem.
I've already got the back done, the side where the address is printed, and I only need to track down a couple of graphics for the ad side.
Coming home from work, I made a last stop at the Webster El Pollo Loco. I say a 'last stop' because today is their last day of business. I had tried to do the order-ahead using their mobile app, but they had already deleted that location from the app.
When I got there they were already out of Mac N Cheese, Chips, Queso, and Cole Slaw, but lucky for me they still had their Chicken Tortilla Soup. Or at least enough for two large bowls to go.
And since after our two bowls they didn't have enough to sell to anyone else, we got extra large servings. Nice.
---
---
I was picking these soups up as spares since we already had two in the fridge that we were going to have tonight. I had picked them up this past Monday for tonight, but when I came in this afternoon with the two piping hot ones, they became dinner. Delicious.
For Christmas I got Jan what I thought at the time was kind of a joke gift, but she says it's become one of her favorite.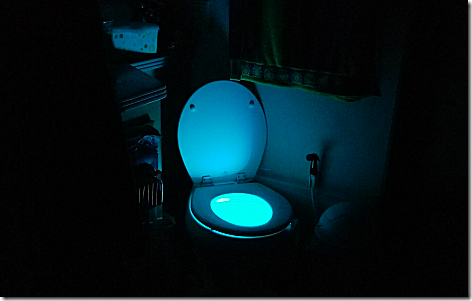 Its motion sensor turns on as soon as you come into the bathroom from either direction and stays on for two minutes, although you can program it for longer.
Makes it really easy to find in the middle of the night when you're half asleep.
---
---

The Word of the Day is: Scout

Tonto's horse was named Scout.
---

Thought for the Day:
Chuy's, the well-known Tex-Mex restaurant chain, is actually named for Chewbacca of Star War's fame.
dfgdfgg