Daily Archives:
January 31, 2018
Please remember, Our RV Adventures is an Amazon affiliate. When you do your shopping through any of the Amazon links here, including the Search Amazon box in the right sidebar, it won't cost you any more, but we'll get a small commission on everything you buy. Just click on the Amazon link, then shop as usual. Thanks.
Plus, many of you are sharing our blog with others using the "Share this:" buttons at the bottom of each blog. Again, Thanks.
---
---
Things didn't go too well today at work. We hadn't heard anything from the direct mail company since I approved the artwork Monday afternoon, so I sent them an email asking what was happening.
And all I got back was an email requesting that I approved the artwork . . . again. But when I went to the approval page, it said the artwork had already been approved. WTH? So I sent off another email.
As it stands right now we don't know what's going on with them. Hopefully I'll know something tomorrow.
I mentioned in Monday's blog that I had set up the website to change over to the sale prices at 12:01am tomorrow morning, as well as the sales banner on the front page.
Well, when I came in this morning I found out that sometime this morning the new prices got posted on the site, and a couple of orders came it. No big problem, but it shouldn't have happened.
But the sales banner didn't change. And since it's all tied together, it should have. So I turned the prices back off, and then I'll check back after midnight to see if they came back on. If not, I'll have to turn them on manually.
---
---
After I got home this afternoon we turned right back around and drove over to Victory Lakes to have dinner at Whataburger.
Once again we each got Double Meat Whataburger Jr's as well as the Grilled Chicken Apple & Cranberry salads.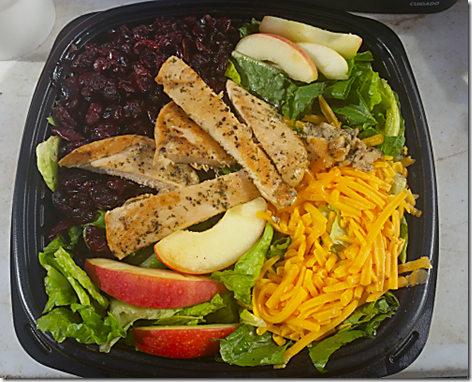 And as before we had leftover salad to bring home. Great as always.
Tomorrow afternoon we're meeting an old friend and past co-worker of Jan's at the Texas Roadhouse in Pasadena. Really looking forward to it.
Our son Chris called this morning to tell me to bring the truck by so he can clean the oil pressure sensor connector for me. So we'll do that on our way to Pasadena.
Jan was supposed to have her checkup tomorrow morning, but her doctor called this afternoon to move her appointment back to next Wednesday the 7th. Apparently a piece of equipment they needed had died and wouldn't be repaired until Monday. So we're back to square one on that.
---
---

The Headline of the Day: Flight with 85 plumbers on board returns to airport due to broken toilet.
---

Thought for the Day:
Give a man a fish and he will eat for a day. Teach a man to fish and he will eat for a lifetime. Teach a man to create an artificial shortage of fish and he will eat steak. – Jay Leno
sdfgsf