Daily Archives:
January 11, 2018
I was really nice to just get up this morning and not really have anything that we really needed to do.
---
---
I did want to take the big awning down but it was overcast and looking like rain when I got up, and it was supposed to rain all day, so I wasn't too hopeful.
I called my client to let them know that I would be in the office tomorrow since Jan's lithotripsy has been moved to next Wednesday. Then I called the hospital to double-check our arrival time for that. Originally we were told to arrive at 9:30 for the 11:30 procedure. But now that the procedure is scheduled for 12:30, I wanted to be sure that our arrival time would be pushed back to 10:30, and it was.
Even though it was still overcast, when the rain hadn't showed up by 2, I got ready to go outside and tackle the awning. But before I could get out the door the hard rain swept through.
But looking at the Rainy Days app, I saw that the rain was a long, thin line sweeping through so I still thought I might make it. And by 3pm I was outside and ready to go.
This one has seen better days. It got soaked in drilling fluid in 2014 when we were across the road from the drill rig and they blew a seal and covered the rig in sticky oil. I tried everything I could to get the stains out, but no luck.
And when the then tiny hole appeared I tried to patch it with awning tape, but it wouldn't stick. In fact nothing I tried would stick. So that leaves us here.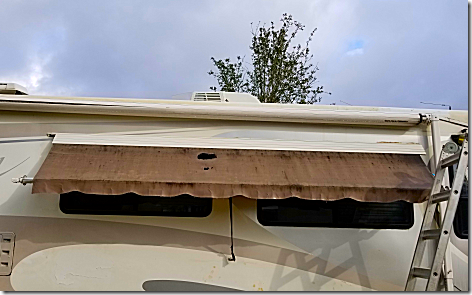 sfgfg
I locked the pliers to the end of the spring, removed the screw, and unwound the spring, counting the turns.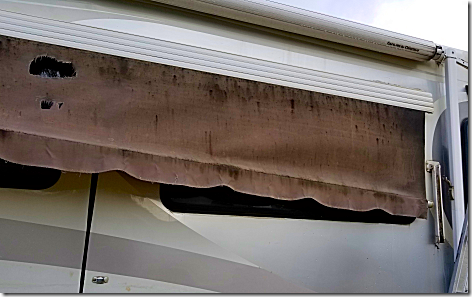 sfgfg
One the left end I just let the spring unwind free, leaving me with this.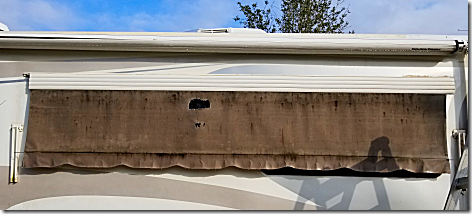 sfgfg
Then after removing the screw from the upper frame, I was able to slide the frame piece and the fabric off.
Finally I uncrimped the frame, slid the fabric loose, and I was done.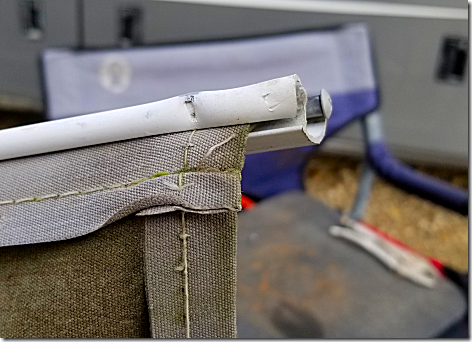 It only took about 30 minutes. I'll try to drop it off at Sundowners tomorrow or Saturday.
About 4pm we headed down to the Victory Lakes area to have dinner at Jason's Deli, one of our favorite soup and sandwich places. But this time it was Soup and Salad.
---
---
Jan had a cup of her favorite Broccoli Cheese Soup AND got a bowl of it to go for tomorrow's lunch while I'm at work.
I got a bowl of my usual Southwest Chicken Chili, my all-time favorite.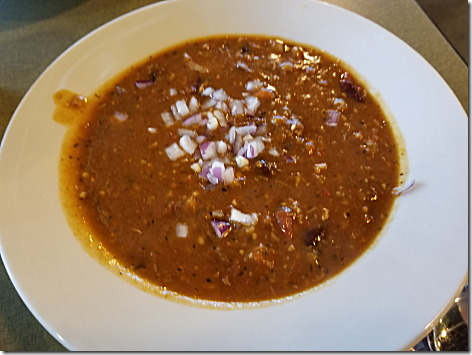 Really good. Unfortunately I forgot to bring in my Volcanic Pepper Flakes to spice it up a little.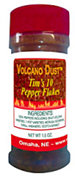 For the salad part, we both got the Nutty Mixed-Up Salad,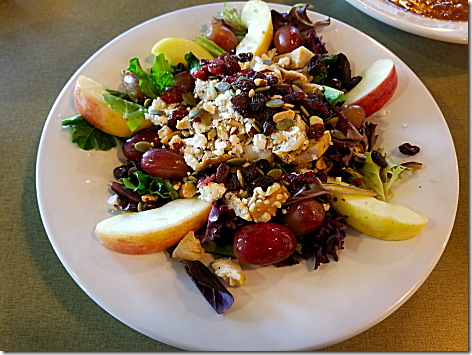 with grilled chicken breast, greens,grapes, cranberries, feta cheese, raisins, nuts, apples and pumpkin seeds.
Really delicious and we both had some to take home.
There's a Social Security Office in the same area as Jason's and I had hoped to stop by and find out why my 2018 check amounts don't make sense, but we ran out of time and they were closed. Maybe next time.
When we got to Jason's, the sun was out and the sky was blue. But by the time we left about 45 minutes later, the sky was dark gray and heavy rain drops were starting. So our stop at the nearby HEB for a few things was postponed.
Although our high today as 70° our low tonight is looking at 33. And the front coming in presages 40/50 degree days and 30/40 degree nights for the next week or so. Our favorite temps.
Brandi, Lowell and Landon are all settled into their rent house for the next year while they're looking for a new place to buy. The last we heard they close on the old house on the 22nd. But in our experience, that's always kind of fluid. On one of our buys, we had 3 different appointments before one stuck.
Brand did send over this pic of Landon and his best buddy, Baxter. Too Cute!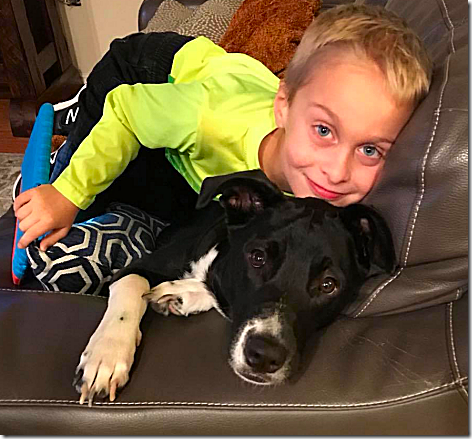 Back to work tomorrow.
---
---
The Headline of the Day:
Climate Scientists Announce the Latest Climate Change Threat: Mutant Transgender Turtles
So . . . they're not Ninjas?
---
Thought for the Day:
Anger is the feeling that makes your mouth work faster than your mind.
sfdgsfdg