Daily Archives:
January 7, 2018
Please remember, Our RV Adventures is an Amazon affiliate. When you do your post-Holiday shopping through any of the Amazon links here, including the Search Amazon box in the right sidebar, it won't cost you any more, but we'll get a small commission on everything you buy. Just click on the Amazon link, then shop as usual. Thanks.
Plus, many of you are sharing our blog with others using the "Share this:" buttons at the bottom of each blog. Again, Thanks.
---
---
Jan continues to get to get a little stronger every day. And again we both appreciate all the well-wishes from100's of friends and blog readers. Thanks.
We've had a number of emails from readers concerned that Jan was taking Cipro and now Levaquin, and the possible side-effects from them.
First off Jan has taken both of these for short periods of time in the past with absolutely no bad effects whatsoever. In addition, name one antibiotic that doesn't have bad side-effects for someone.
I've also read several times that if aspirin were developed today it would be a prescription drug due to all the bad side-effects that some people have from it.
So we appreciate everyone's concerns, but so far she's doing fine.
I took the panel off the microwave today trying to fix a nagging problem. When you use it 2 or 3 times in a row the microwave power will shut off. The timer keeps counting down and the turntable keeps spinning, but the interior light goes off and it stops cooking.
If I push in on the panel the light comes back on and it starts cooking again. But the longer it is used the harder you have to push in on the control panel.
I'm pretty sure that problem is with the microswitch that senses whether or not the door is closed and latched. When I reach in I can wiggle the switch, so I'm pretty sure that it is the problem.
---
---
But the way it is mounted behind the frame it's hard to get to, so I used Gorilla Tape to try and lock it down in place. And in testing, it did three 3 minute runs heating water with no problem, so we'll see how it works out.
About 2:30 Jan and I headed over to I-45 and the Victory Lakes area to eat at the Whataburger there. This time, along with our burgers, we each got a salad.
Jan got the Garden Salad while I got their Apple & Cranberry Chicken Salad.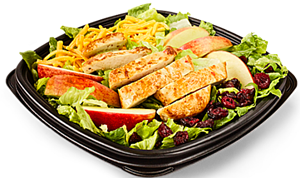 Both salads were really good and we have enough left over for dinner tomorrow.
Heading back toward home I stopped for gas at the HEB. Don't know what's really going on with the gas prices, but since the week before Christmas the price has jumped 26¢ up to $2.19. Ouch.
Then we made a quick stop at the nearby Jason's Deli for a cup of their Broccoli Cheese Soup for Jan's lunch tomorrow while I'm at work.
---
---

The Headline of the Day: Woman run over by own car trying to escape cat attack.
---
Thought for the Day:
It matters not how straight the gate,
How charged with punishments the scroll,
I am the master of my fate;
I am the captain of my soul.
William Henley
sdfgsfdg