Daily Archives:
January 15, 2018
Back at work this morning, I gave up.
---
---
For the last couple of months I've been trying to move my client's website and online store off the in-house Linux server and up onto Godaddy. But so far everything I've tried has been a dud
To do that I need to set up a new version of Zen Cart on Godaddy and then copy the Zen Cart MySQL data from the Linux server and then just install it on Godaddy's version.
Yeah, right!
Well it would be that easy except that access to the MySQL file is password protected. And the password is not any of the ones from my list of the previous guy's passwords..
But I kind of figured out a workaround only to find that the data file itself is encrypted. Why the hell, I don't know. There's no reason for it.
And even worse, it's encrypted with AES-256 encryption, the same standard used for online banking. So good luck breaking that. So now it's down to grunt work.
We presently have about 1680 products in the database, so my fall-back is to just start copying the individual products over one at a time. It's likely to take several months, but as I told Jan if I'd done this to start with, I'd be done by now.
At least it'll keep me off the streets and out of trouble. Well, one of them, at least.
---
---
We had originally planned to have our left-over El Pollo Loco for dinner tonight, and then eat out tomorrow, but the incoming weather intervened. With tomorrow, we're expecting temps in the low 20's with freezing rain, sleet, black ice, and snow flurries/snow. Sounds like a good day to stay home.
So as soon as I got home we turned back around and headed back up FM646 to have dinner at our local favorite, Pho20.
We both started out with their delicious House Crunch Salad, with Miso Dressing and Tempura Crunches. Then while Jan again went with the Hibachi Chicken,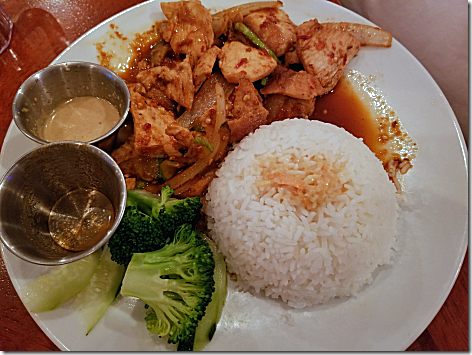 I once again got the White Chicken Pho with Vegetables.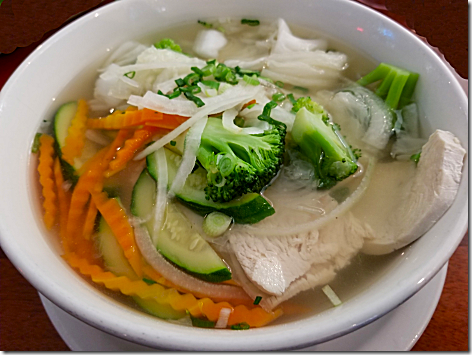 Really good and enough to bring home more than I ate to start with.
Before heading home we made a detour by the nearby HEB for a few things.
Tomorrow I'll double check that our fresh water tank is full and then disconnect us from the Shore Water for the next couple of days, since we're looking at 23° tomorrow night and 26° on Wednesday.
Since we're looking at possible icy road conditions Wednesday morning, we may find that Jan's lithotripsy gets rescheduled. We'll have to see.
---
---

The Headline of the Day: One in four non-believers pray when crisis strikes.
---
Thought for the Day:
Give a man a fish and he will eat for a day. Teach a man to fish and he will eat for a lifetime. Teach a man to create an artificial shortage of fish and he will eat steak. – Jay Leno
hdghgh