Daily Archives:
January 3, 2018
Better and Better!
Jan was sitting up and talking when I got to her room a little after 9 this morning. Very happy to see that.
---
---
Her breakfast came about 30 minutes later, scrambled eggs, bacon, and an English Muffin. And coffee.
Tasted like the coffee was from the same place as my cup yesterday, so she passed and just drank ice water,.
She ate some of the eggs, tried a bite of bacon that was too tough to chew, and a few bites of her muffin. Not a lot, but better than last night.
Finishing up, she had a few spoonful's of the diced pears fruit cup that came for dessert.
Later in the afternoon her attending physician came by to check on her. He did mention that when they do take care of her kidney stone in 10 days or so, they plan to use lithotripsy, a way of using sound waves to pulverize the stone inside the kidney.
When lunch came, Crusted Tilapia, Diced Carrots, White Rice, a Dinner Roll, and a Flour Tortilla for some reason. Plus Vanilla Pudding for dessert.
She ate even better this time, but I still had to help her because her hands were so shaky. But she said it was all good.
---
---
Then when dinner came about 5:30, Cilantro Chicken Breast, Green Beans, and White Rice, as well as a Dinner Roll and Chocolate Pudding for dessert, she was now able to feed herself with no problems. She said it was really good this time too.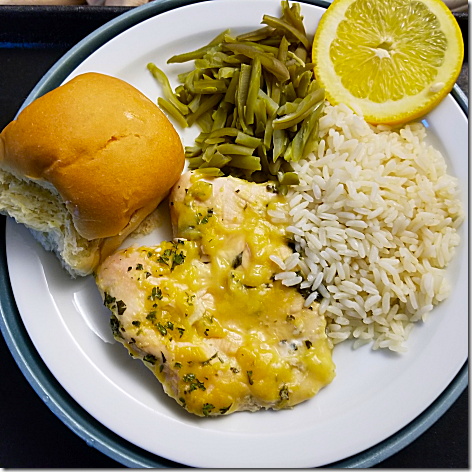 Doing Great!
Still don't know if she will be able to go home tomorrow yet. They said that someone was going to come in and start trying to get her up and see if she could stand on her own, but that hadn't happened by the time I left at about 6:15pm.
So I guess we'll see tomorrow.
---
---

The Headline of the Day : Doctors Find Ketchup Packet Stuck In Woman's Intestine For 6 Years
---

Thought for the Day:
"The only thing worse than fighting with allies is fighting without them." – Winston Churchill
sdfgsfdg