Daily Archives:
January 23, 2018
But I Can't Remember What I Walked To Back of The Rig For?
Please remember, Our RV Adventures is an Amazon affiliate. When you do your shopping through any of the Amazon links here, including the Search Amazon box in the right sidebar, it won't cost you any more, but we'll get a small commission on everything you buy. Just click on the Amazon link, then shop as usual. Thanks.
Plus, many of you are sharing our blog with others using the "Share this:" buttons at the bottom of each blog. Again, Thanks.
---
---
I goofed off most of the morning, checking out some new website software that I'm looking at. But figuring I had to at least do something productive for the day, about 2:30 I went outside and installed the second new awning on my bedroom window. It only took about 20 minutes with part of that moving the ladder back and forth.
Two down, two to go.
The next one, the big one on the passenger side, will be more trouble since it's more than twice as long as the rear window one, 51" vs. 130". So the big torque tube will be harder to handle. We'll see.
Last night we lost one of our favorite TV shows to the recent Hollywood sexual harassment scandal. Wisdom of the Crowd died at 13 episodes due to the accusations against the star Jeremy Piven
Although the ratings weren't great they were probably good enough to be picked up for the second 13 episodes. At least shows without controversy but lower ratings were picked up.
Jan and I both thought t hat they should just have replaced Piven with a new actor. They do it on soap operas all the time. Of course the only time we could remember it being done in primetime with a main character was Darren on Bewitched. A long time ago, but it's the only one we can think of.
Maybe our readers can come up with others.
---
---
About 5pm we met our RV friend's Jan and Dale Thompson at the Cheddar's up in Webster. They had never been to one so they were looking forward to it after reading our blog.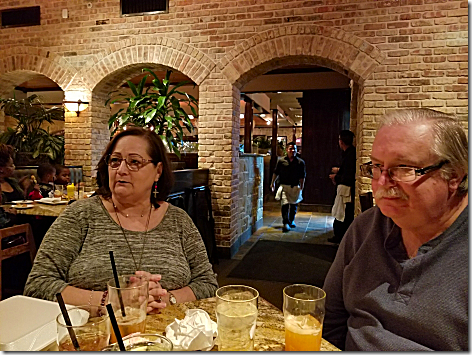 The other Jan got the Chicken Fried Chicken, while Dale got the Cornmeal Catfish. My Jan got her usual Key West Chicken and Shrimp and I again got the Veggie Plate.
All really delicious.
After a great time, my Jan and I headed home with a quick stop at HEB for a few things before getting home about 8pm.
---
---

The Word of the Day is: Maladroit
---

Thought for the Day:
To Be Old and Wise, You First Must Be Young and Stupid.


adfasdfa