Daily Archives:
January 16, 2018
We don't have any dogs so it'll be a 3 heater and one cat night.
---
---
First off Jan and I want to wish our good friend's Nick and Terry Russell a wonderful 20th Anniversary.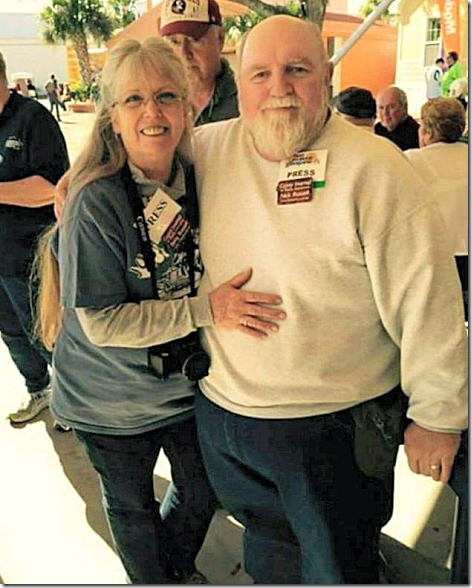 Many, many more guys. Hope we'll see ya'll soon.
Well last night's low was 31°, and the high today creeped up to 40° and that was about it. And then tonight we're looking for either 21° to 23° depending on which weather service you want to believe, Of course neither one is ideal.
With these upcoming temps I had planned to set up my heat lamp in our water bay to keep things warm. But I found my heat lamp bulb hadn't survived storage in the basement and the lamp wasn't much better so around 11:30 I drove over to the Santa Fe Tractor Supply to pick up a new set.
---
---
The temp was about 37° so I had no problems with ice on the roads, but it had rained last night and again this morning so as the temp drops it's going to get messy.
If fact, based on the predicted dangerous road conditions tomorrow morning I'm worried about whether or not we'll be able to get to the hospital tomorrow morning for Jan's lithotripsy procedure.
And with all businesses and schools already closed tomorrow, when a call came in from the hospital around 11am, I was expecting a cancellation, but it was just a confirmation call. But I wouldn't be surprised to get a call tomorrow morning.
They're saying tonight will be the coldest in Houston in 22 years. Yikes!
I know Jan just wants to get it all over with, but we'll have to see. Hopefully it will work out.
By the time I went out to set up the heat lamp in the bay, it was 31° and ice was everywhere. I even had trouble unscrewing the hose connections so I could disconnect us from shore water. I also put a remote thermometer in the bay so I can monitor things.
I was happy to see the temp in the bay quickly climb from 30 to 39°, so hopefully that will take care of things.
About 8:30 I went outside to check on the truck for tomorrow morning. Rime ice was already coating things so I unstuck the wiper blades and left them folded out so they won't be froze to the windshield tomorrow. I also got the truck door unstuck and open. But it did take a bit. I went out a couple of hours and repeated the process, and I'll do it again before I go to bed. Hopefully we'll be able to get in the truck tomorrow.
Stay warm out there.
---
---

The Word of the Day is: Decathect
---
Thought for the Day:
I think on-stage nudity is disgusting, shameful and damaging to all things American. But if I were 22 with a great body, it would be artistic, tasteful, patriotic and a progressive religious experience. – Shelley Winters
fgsdfgsfg