Daily Archives:
January 19, 2018
Not outside. It pretty much rained all day. Not very heavy, but a pretty steady drizzle.
---
---
No, the problem was my client's office was dry. As in no water. Apparently a pipe that was weakened during the freeze waited until early this morning to let go. And with all the recent pipe problems, they can't get a plumber out until something this weekend.
As soon as I got home about 4:30 Jan and I turned right back around and headed back up to Clear Lake to once again have dinner at Floyd's Cajun Seafood,. In fact we think Floyd's might become our standard Friday night fare.
It's that good.
Jan again had the Grilled Catfish with the Steamed/Grilled Mix Veggies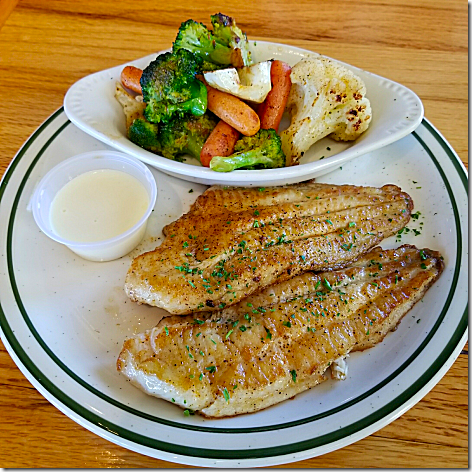 while I had the Shrimp Gumbo and a side salad.
---
---
Before heading back to the the rig, we made a run by Sam's Club to pick up a couple of prescriptions.Although mine was correctly priced at $10, Jan's should-also-be-$10 one came through at $93.23. Ouch.
Both my prescription and Jan's on e for Sumatriptan (Jan's migraine medicine) are on Sam's Extra Value Drug List which with our Plus Card membership gives us access to over 600 prescriptions at either $4 or $10. And these not the same ones that Wal-Mat discounts, but more expensive ones.
Anyway, it seems like about half the time they neglect to price the drugs against the Plus card. So I called them this afternoon so they could get it straightened out before I picked them up this evening.
Not sure what's on the agenda for the weekend yet, but probably shopping and eating is involved.
---
---

The Word of the Day is: Bespoke
---
Thought for the Day:
Unless we each conform, unless we obey orders, unless we follow our leaders blindly, there is no possible way we can remain free." Frank Burns, M.A.S.H
fdgsdfg