Daily Archives:
February 4, 2019
Our friend Nick Russell is not dead.
Back when our blog was down, people were emailing Nick wondering if we were dead. Nick even did a blog about his experiences with that.
Nick and Terry are traveling out west to take care of a family problem and just haven't had an opportunity to post a blog.
Again, he's not dead.
I spent a good part of today at work trying to get the webserver configured to install the new SSL certificate for our credit card processing system. Last year I got a nasty surprise when the certificate expired without me getting any notice from Godaddy. But that wasn't Godaddy's fault, because the previous IT guy had all notices sent to his personal email, not a company one. And since I didn't have access to his personal email, I never knew about it.
But by the time I got it all set up and ready to go today, it was almost time to head home, and since after I install it, I need to shut down the shopping cart, shut down the server, and then reboot, letting the all the tables and databases rebuild, I'd rather be there watching over it when it's happening. So it's all put off until Wednesday.
I did receive my 1/2" extensions from Amazon for my oil filter removal/install.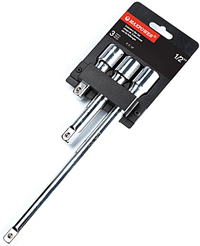 With a 3", 5", and a 10" one, I will have an 18" reach to get my filter wrench into position. I was also able to dig out my 1/2" ratchet handle from the bay underneath our slide. My normal socket/ratchet set is 3/8" and 1/4", but I have the 1/2" for when I have to manually crank the slide in and out.
I've only had to do this twice over the years, once for a broken shear pin due to a loose floor tile under the kitchen cabinet jamming the slide, and the one due to a broken screw that was jamming the gears. So it's easier to just leave it in the bay where I always know where it is.
Looks like Jan and I will be attending the Houston RV Show this Thursday. It starts Wednesday, and it's a BOGO ticket day, but with the tickets only $12, and the fact it seems like all the vendors aren't set up the first day, we thought we'd hold off a day.
While we're up there, we'll make a day off it with lunch at Katz's Deli in the Montrose area, before coming back down by iBurn, our local all-things-hot store.This should get us to the RV Show about 1pm.
Really looking forward to it.
---
Thought for the Day:
If one synchronized swimmer drowns, do the rest drown too?
gsfgsf