Daily Archives:
February 22, 2019
Although I read that we would not be receiving the flight details for our cruise until about April 5th, I came across our flight info while I was poking around our entry on MyVikingJourney.com
Turns out that we're leaving IAH (Bush Intercontinental) on KLM Airlines flight #662 at 3pm on April 26th. Really like the 3pm part. We'll have a 9 hour 15 minute flight direct to Amsterdam, then a 1 hour 35 minute layover before we take a 1 hour 55 minute flight to Budapest.
But when I checked our flight home, I found a problem. We were still booked as coming home directly from Amsterdam on May 15th, and not from London on the 24th.
So I sent off an email to our friend/travel agent, Chantelle Nugent, to check it out for us. She got back to me later in the morning, saying she had talked to Viking and they had corrected the problem, but that it would be about 72 hours before our online info is updated.
And not only do we have our flight info, but we also have our seats reserved. And as we've done in the past, we booked aisle seats across from each. That way we only have a person on one side of us, and we can easily talk across the aisle.
Later I went ahead and gang-booked the 13 Included Excursions on our trip, and then while I was at work I printed out listings of the 45 optional (Extra Cost) excursion possibilities. These range in price from $49/person for a tour of Vienna's Historic Farmer's Market, led by a Viking chef, or a tour of Budapest's Grand Market Hall, up to $399/person for a Flightseeing tour over Austria and Germany, with sights like the Austrian Alps, and Hitler's Eagle's Nest Retreat, a remote mountain top chalet.
So now we're checking these out to see if any catch our eye. One thing nice that Viking does is to flag any of the optional tours that conflict time-wise with our all-ready booked Included ones. Makes it a lot easier to figure out the scheduling.
Another thing I had Chantelle check on the other day was to see if we could get a tour of Highclere Castle, the real 'Downton Abbey'.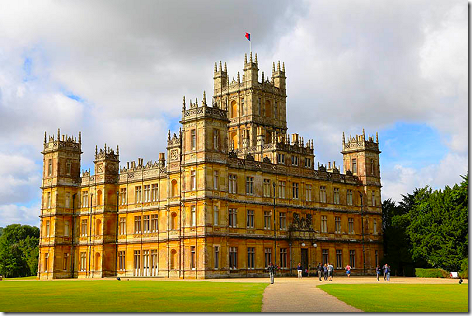 Jan's a big fan so I was hoping to get us on a tour, but unfortunately, the available ones in May are either while we're on the cruise itself, or after we're back in the States. Bummer!
Chantelle has been great with this, holding our hands the whole way. So if you need help with your travel plans, give her a call at 713.494.2555 or check her out at the link above.
I've also gotten the names of several limo services to see about getting a towncar from the RV park here in Santa Fe to IAH and then back home when we return. Chantelle gave me one she uses, and one that Brandi uses, and I've got another local to compare.
We want to leave the truck here at the rig, so it doesn't look like we've completely abandoned the place, as well as just not have the hassle of parking and schlepping our bags around at the airport.
Tomorrow evening Jan has her annual get-together with her former hospital co-workers, this time at the Delta Blues Smokehouse in Webster. They've done this every year since we hit the road, and it's always a lot of fun for everyone.
---

Thought for the Day:
One nice thing about egotists: they seldom talk about other people.
asdf