Daily Archives:
February 7, 2019
Jan and I were on our way up to Houston about 10am. But what we anticipated being a really nice time,  turned out to be somewhat disappointing.
We got to our first stop, Katz's Deli, a little before 11am, and got seated immediately.
So far, so good.
Now Katz's is really known for sandwiches like this Reuben.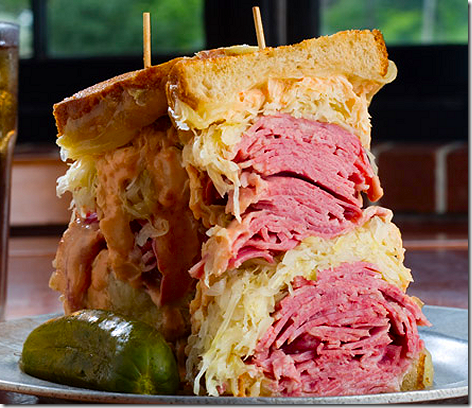 But we both started with a cup of their delicious Broccoli Cheese Soup.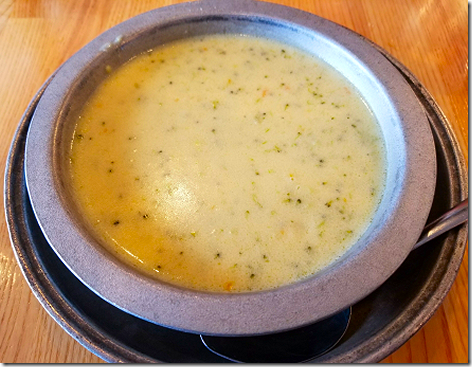 Glad I didn't get the bowl. This cup was big enough.
Jan then got their Open Faced Tuna Melt sandwich,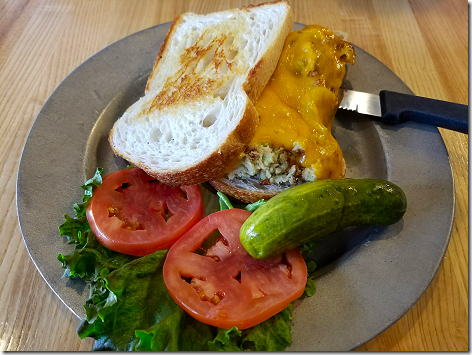 while I got their Fire Dog done New York Style, i.e. with sauerkraut and grilled onions.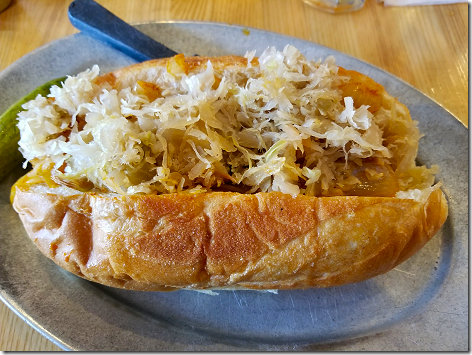 For our sides, we both got the Mixed Veggies, really good, because they were done al dente, and not cooked to mush like a lot of places.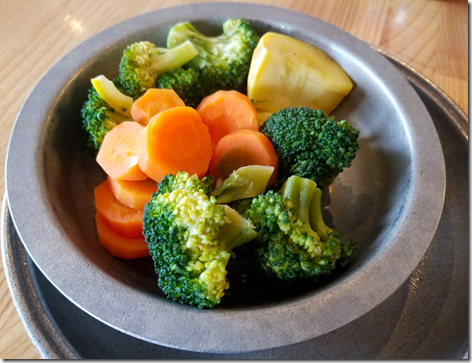 Jan wondered what kind of tuna they used, saying it was the best she'd ever tasted.
My Fire Dog seemed to actually be a Polish Sausage dog, and pretty spicy. And very good, especially I added their Spicy Deli Mustard to the mix.
Then for a to-go dessert, we got a couple of their famous Coconut Macaroons, mine plain, and Jan's Chocolate Dipped.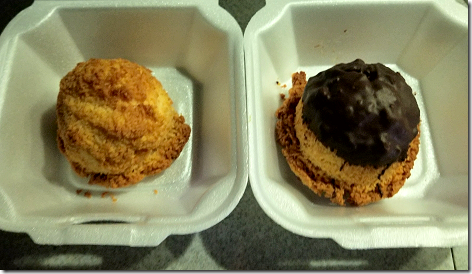 But after this things went sharply downhill. We couldn't get our check. We waved, we "Sir"'d, we did everything but trip him as he walked by. It was like he was deliberately ignoring us.
Don't know why  He only had about 5 tables, including us. He did stop by a couple of times during the meal, and we told him how good everything was. But that was it.
Finally, after we waited almost 30 minutes, I flagged down the hostess as she was coming back from seating someone. We told her how long we'd been waiting and she just shook her head, and went and got our check from the computer.
Coming back, she apologized like it had happened before, and then signing my credit card slip, I did something I haven't done in a long time.
I left a $0.00 tip and wrote on the slip why.
You may also be familiar with the original Katz's Deli in New York City. It was the setting for the famous scene in When Harry Met Sally with Meg Ryan and Billy Crystal.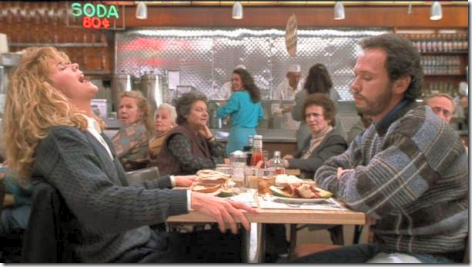 "I'll have what she's having."
Since we were now running late, we decided to skip iBurn and go straight to the Houston RV Show at the NRG Center. And following the theme of the day, we were again disappointed. After paying $12 to park, and $24 to get into the show, we found . . . not much. At least not much of what we were looking for.
Not being in the market for a new RV, we were mainly hoping to cruise the many vendor booths, just to check out all the new, neat stuff. But unlike the many RV shows that we attended in 2006 and 2007, leading up to our RV purchase the end of 2007, there was one row of vendors, maybe about 40 total. And only about half of them were really RV-related.
There were several home remodeling companies, new windows for your home, etc. Probably the largest number were for RV parks around Texas, including the Thousand Trails locations.
The one thing we did find was one of the Candied Nut vendors, so Jan got a couple of tubes for $10.
We did walk around a bit looking at some of the rigs though. We did like this 44 foot Newmar Ventana.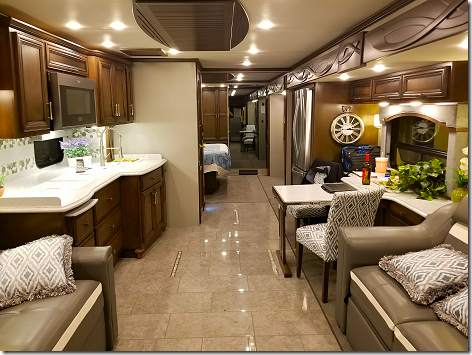 At $279,997, it was marked down from $363,224. And after $56,000 down, and only $1604 per month for 240 months (that's 20 YEARS), it can be all yours.
So wrapping this all up, we paid $36 to buy $10 worth of nuts.
But at least the Macaroons were delicious with our evening coffee.
---
Thought for the Day: 
What if there were no hypothetical questions?
fgsdfg