Daily Archives:
February 14, 2019
After a quiet morning of Valentine's Day cards and Lindor Chocolate Truffles, Jan and I headed up to Alvin for the final ophthalmologist's appointment from her recent cataract surgeries.
After a quick checkup, and finding no problems, her doctor did a final setting on her prescription, showing her what her vision will be when she gets her new glasses.
Then, new prescription in hand, we drove over to the Sam's Club on I-45 and turn it in, along with the frames from the glasses that she got back in September. She hasn't worn them since her surgeries because the prescription was now too strong, and she thought it looked funny to be wearing glasses with no glass in them. She should have her new ones in the next week or so.
One thing nice about this was, with our Sam's Club Plus Card membership, the new lens were free, since she just got the single vision plastic lens version. Nice.
Then it was on down the Interstate to the Saltgrass Steakhouse for our Valentine's Day meal. And getting there at about 4:30 we thought we'd beat the holiday rush.
Wrong!
Normally if we get there by 5, even on weekends, we get seated right away. But today we had 15 minute wait at 4:30. However unlike our recent restaurant excursions, the service was great.
Our waitress, Desirea, was really good, and the food came out fast and hot. We started off with our usual fav Wedge Salad, but this time added an Amaretto Splash drink, made with Carnarena Silver Tequila, DeKuyper Peachtree Schnapps, Fresh Pineapple Juice, and topped off with Disaronno Amaretto Liqueur.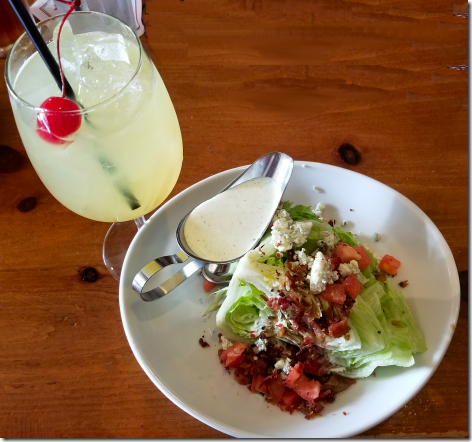 A really tasty drink, and the first one in a while that actually seemed to have some liquor in it. It seems like a lot of the time they 'forget' to add the alcohol, and all you get is expensive fruit juice. But this one had some kick. And since we normally only have a couple of drinks a year, we wanted to make the most of it.
Next up was our steaks, Jan's Center Cut Filet with the Green Beans,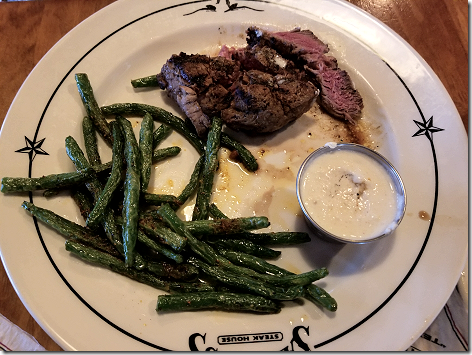 and my Ribeye, also with the Green Beans.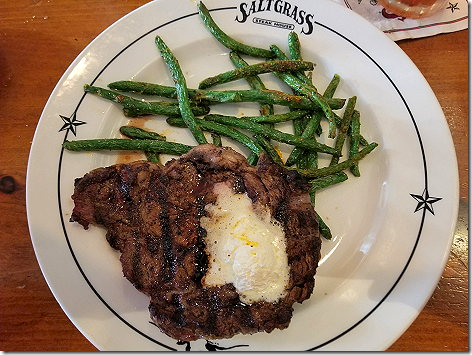 After a really great meal, and while we were waiting for our dessert, I gave my Sweetheart her Valentine's Day present.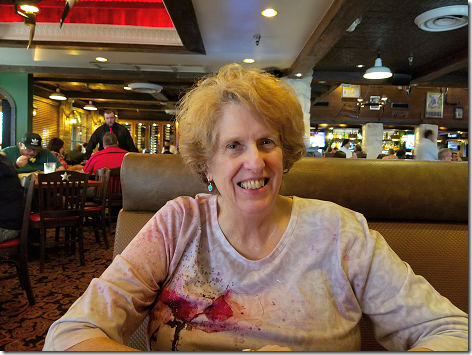 Opal is Jan's birthstone, and since she pretty much only wears earrings and rings, and she's already got several Opal rings, I got her these Opal hearts.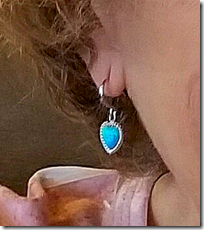 Then a few minutes later, our dessert showed up, the Pecan Pie Bread Pudding that we always split.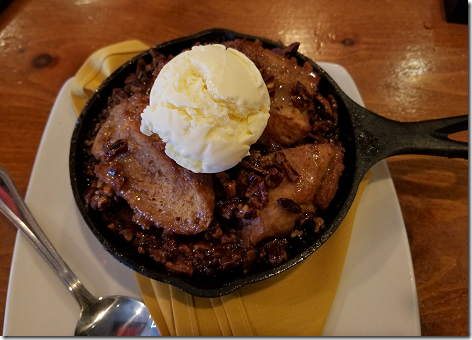 And for what it's worth, this is the least caloric dessert on the menu. The Brownie Skillet Crumble, at 2800 calories, is almost twice as high. So that means we're still sticking to our diet, right?
Happy Valentine's Day, Sweetheart!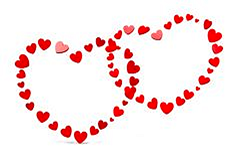 ---
Thought for the Day:
If you ate both pasta and antipasto, would you still be hungry?
jhfjh