Daily Archives:
February 12, 2019
We knew that our friend's Nick and Terry Russell would be coming through our area sometime during the last few days, but due to their schedule we weren't sure if they were going to be able to actually stop and spend some time, or if we would just have to wave as they passed through Houston.
But Nick called about 1:30 yesterday saying that they would be staying over the night and wanted us to all get together. So I left work a little early to get back to the rig to pick up Jan so we could head up to Katy to meet up with Nick, Terry, and Nick's cousin, Beverly.
And we seemed to have timed it perfectly, as we arrived at the hotel just as Nick was unloading their luggage. Then after letting them rest up a bit, we all headed over to the other side of I-10 to have dinner at Cheddar's, a place we all like, though Cousin Beverley had never been to one.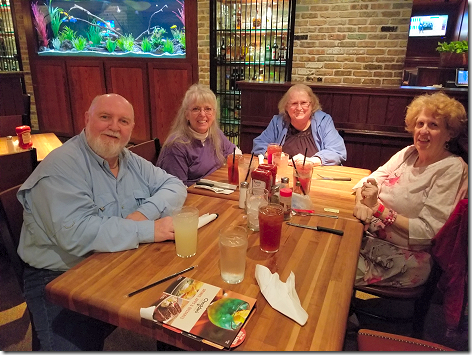 And as usual when we get together, our meal last over 3 hours, what with catching with everything that's been going on since we last saw them the end of October. Finally, since they had another long day's drive in front of them, we said our goodbyes and headed back to the rig.
Hopefully we'll be able to get back down to Florida again soon.
As far as today, Jan and I headed out about 2pm first for our usual breakfast bill of fare at the local Denny's. Then it was on up to Clear Lake for a stop at the office to pick up a couple of packages that came in earlier today. And while we were there, an Amazon delivery van pulled up with a package that wasn't suppose to be delivered until tomorrow. Nice!
And even better, a few days ago I returned a defective item to Amazon, for which they provided a paid shipping label. And in addition, as soon as the package showed up in the system as having been shipped, Amazon immediately refunded my money. Nicer!
Then it was off to WalMart and Sam's Club for a couple of prescriptions and some other stuff. Then finishing up there, we made a loop by our old house to see if any thing had changed. But not much, though it stills had the same broken window in one of the garage doors that it had a month or so ago.
Regular readers will know how much I like railroads and trains, epecically model railroads and model trains.
And I recently came across these great examples of model railroad layouts.
And this one is a larger scale layout with amazing detail, including a brothel for the logging camp. Something for everyone.
Check'em out.
---
Thought for the Day:
If I lived every day like it was my last, the body count might be pretty high.
fghgfh