Daily Archives:
February 16, 2019
After a nice quiet morning of hot coffee and whipped cream (Saturdays and Tuesdays are whipped cream in our coffee days. And of course, Karma has to have her share too. The whipped cream, not the coffee.), we headed out about 1pm to have brunch, this time at Snooze AM, a new Webster breakfast/lunch place in Webster, and actually just a couple of blocks away from The Egg & I, our usual weekend breakfast place.
I texted Miss Piper to see if she could meet us, but she was spending the weekend in Houston with friends.
The last time we ate here was right after Jan's first cataract surgery when she was still a little woozy from the drugs.
She got their Smash Avocado Benny, their version of Eggs Benedict, and was not a happy camper. She said the English muffin was soggy and she just didn't like the taste. But when I pointed out that they had another version of an avocado-themed dish, their BRAVOcado Toast, she decided to give it another try.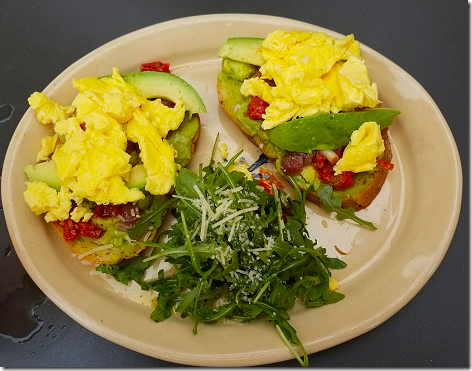 And it was perfect for her, down to the Dressed Greens she gets with The Egg and version, But she says this dish is actually better. And more importantly, at least to me, is that it's cheaper.
So Jan now says "The Egg & I Who?"
I got my usual Shrimp & Grits, which I think is the only thing I've gotten every time we've eaten here.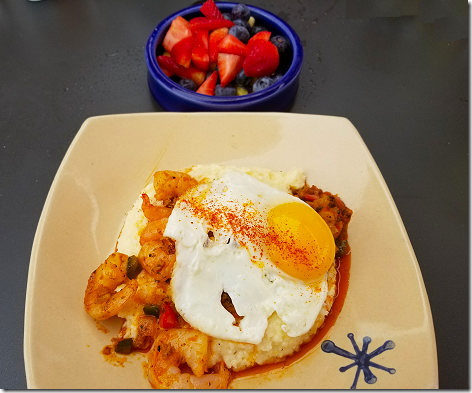 With the sautéed shrimp, Andouille sausage, peppers and leeks, topped with an sunny side up egg, it's pretty much my favorite non-eggs, bacon, English muffin, fruit breakfast.
Then afterwards, it was on over to WalMart and Sam's Club for a few things before heading home.

I didn't plan on looking at our rig's leaking oil filter problem this weekend because, although the temps were OK, we were looking a 90% chance of rain. Except that it didn't.

But there's always tomorrow, so we'll see.

I missed it by a week, but this past February 9th was the 11th anniversary of the beginning of our RV travels. After buying our 1999 American Eagle on December 27th, 2007. And after prepping and new tires, we picked it up from the dealer on January 7th, 2008, and then headed to Alaska on the 9th.

Well, we headed there by way of Las Cruces, Casa Grande, Yuma, Gila Bend, Chula Vista, Temecula, Long Beach, Barstow, Las Vegas, Phoenix, Tucson, Albuquerque, Colorado Springs, Casper, Billings, Garrison, Cle Elum, Cache Creek, Prince George, Dawson Creek, Fort Nelson, Watson Lake, Whitehorse, Haines Junction, and Tok, finally ending up in Fairbanks on April 26th.
And found this.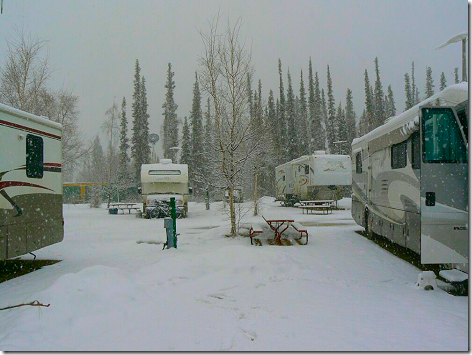 And it's been a wild ride ever since. And it's not over yet, though we've slowed down a bit.
---

Thought for the Day:
"People ask me to predict the future, when all I want to do is prevent it". – Ray Bradbury
sfgsfdg