Gonna Be Hard To Top . . .
From the front yard sign to the giant two-story water slide Brandi and Kristine (Sophie's mom) went all out on this combo birthday party for Landon and his BFF Sophie.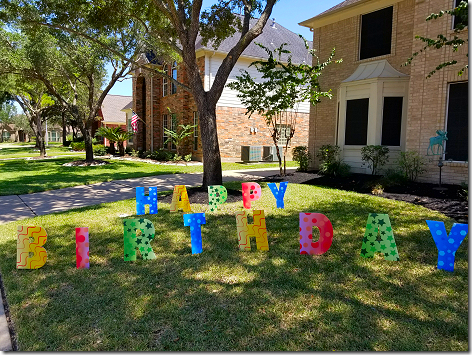 Their birthdays are within a few days of each other, and since they're constant companions it was just a natural idea.
When I got there about 1pm they were both playing king of the hill on the water slide,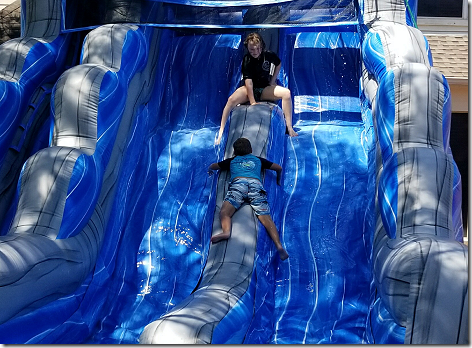 with Sophie often coming out on top since she's got a couple of inches on him. I've noticed that girls this age (9) often have the edge on the boys until they get their growth spurt.
It wasn't long until the guests started showing up and the slide started filling up fast.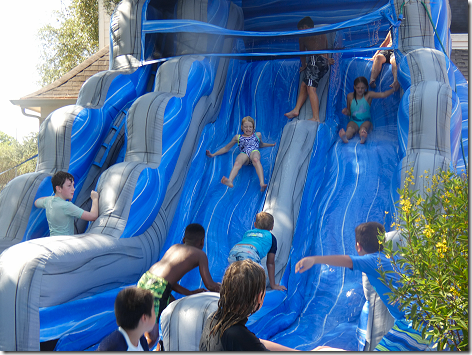 I did tell Lowell that I was surprised that some of the kids weren't trying to find a way to jump from the 2nd story window down onto the slide.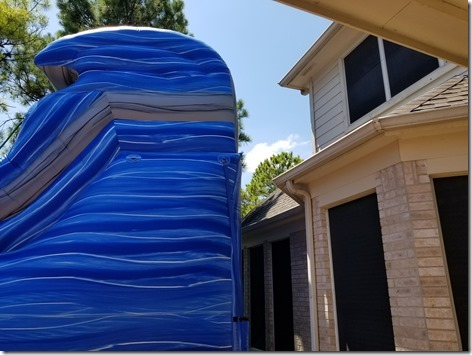 I know we would have been trying that when I was that age. Of course we didn't have to wear helmets and knee pads when we rode a bike.
And we were crazy enough to ride in the back of pickups, too.
After a while some of the kids started to check out the pool.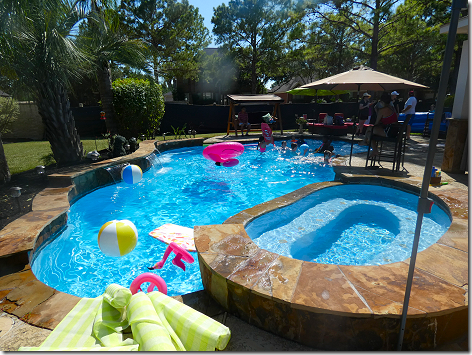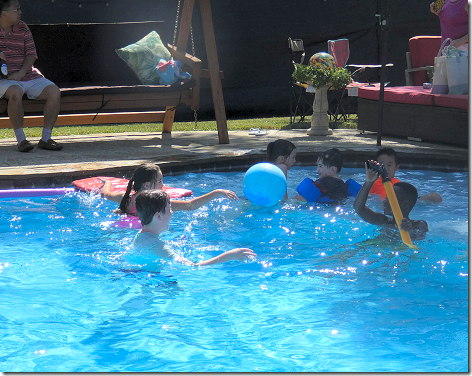 And with so many kids around they had even booked a life guard to keep an eye on everyone.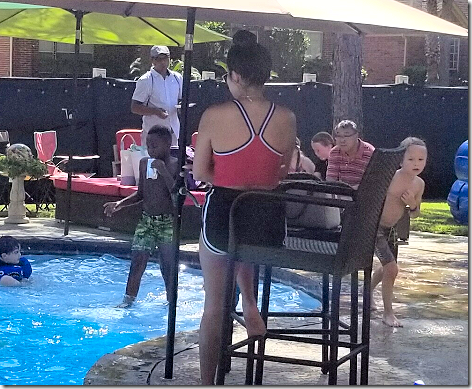 While all this was going on, I did get a look at the the birthday cake that I did the photo for.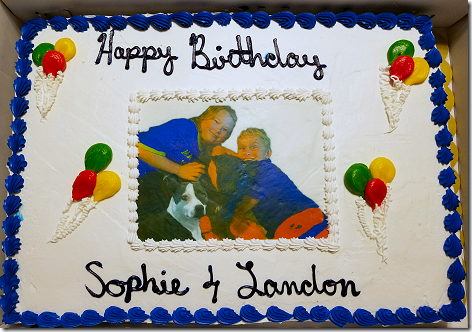 Came out pretty good, especially considering the resolution of a cake printer. But as I thought, Baxter, the black dog between Landon and Lowell, kind of disappeared into the background. Best I could do, though, with what I had to work with.
Besides all the fruit and veggie setups, chips and dips, they also a street taco/quesadilla bar, with two ladies making it all to order.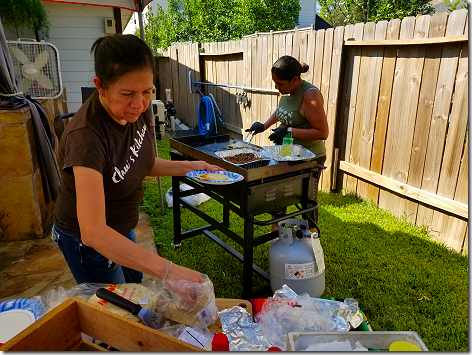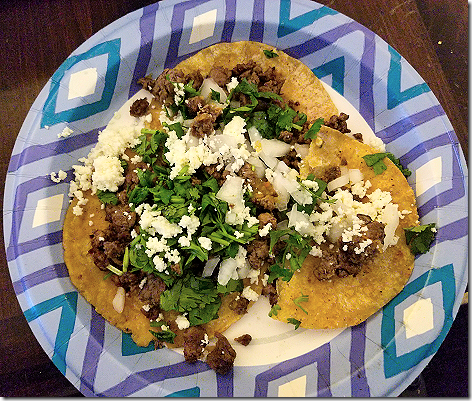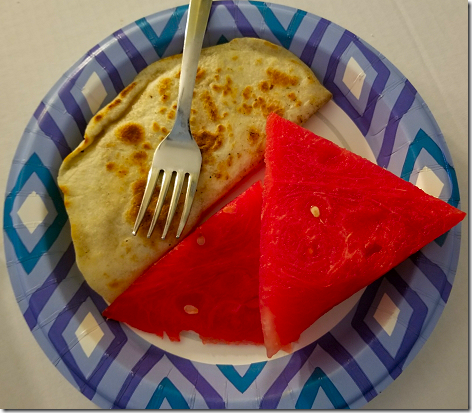 Really delicious, and a great idea.
And it wouldn't be a Texas birthday party without piñatas. Two, as a matter of fact, one for each.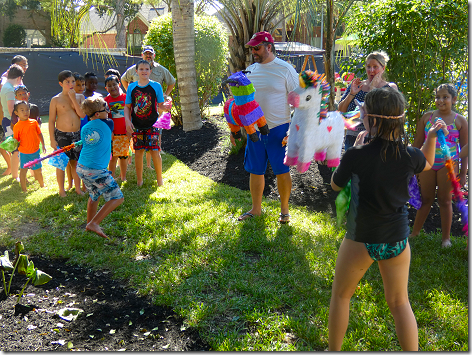 And of course, the mad scramble for the candy and gifts that fell out.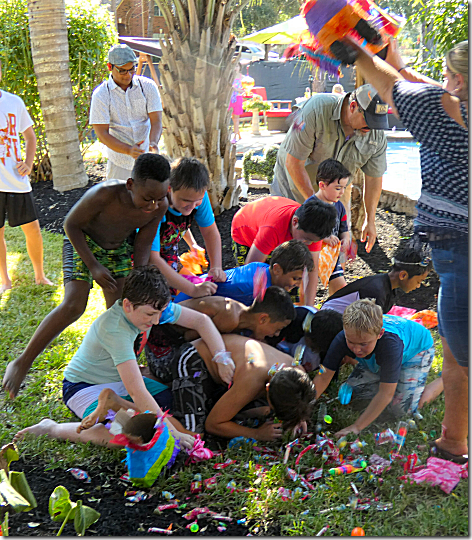 Then it was on to the cake cutting, with Landon on the left and Miss Sophie on the right.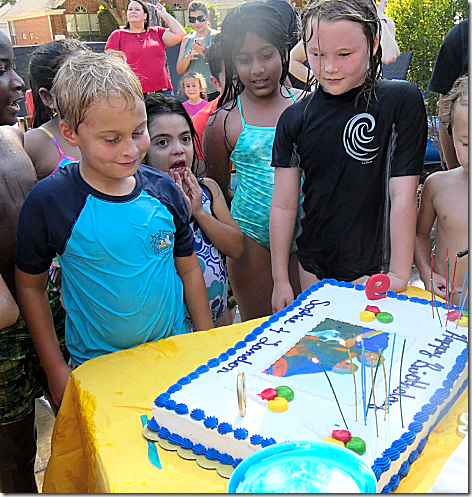 I think one of the reasons that Landon and Sophie are such good friends is that they are both tech nerds. While a lot of 9 year old girls want Barbie stuff for their birthday, Sophie was thrilled with the several built you own robot kits she got.
And since Landon likes dogs so much, and dogs were the theme of the party, everyone got a dog balloon to take home.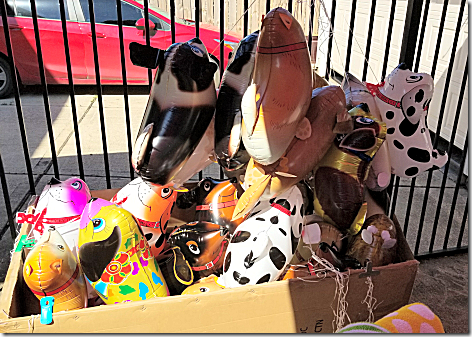 I though it would have been more fun if everyone got a real puppy from the pound to take home. The kids would have loved it, the parents not so much.
With everything Brandi and Kristine had going with this party, it's going to be hard for another parent to top it.
---
Thought For The Day:
Sometimes the good you do doesn't do you any good.
asdf