Sunday Mish-Mash . . .
I mentioned the other day that, based on a blog reader's suggestion, we might consider doing a Mississippi River Cruise after our Alaskan Cruise next year, and our possible Yucatan Mayan Ruins tour the year after.
But when I checked them out I was surprised how expensive they were, especially compared to our Viking River Cruise and Holland America Alaska Cruises.
A 22 day Complete Mississippi River Cruise, 7 days longer than our Grand European Viking cruise, is $13,600 PER PERSON, over $17,000 more than our Viking cruise. That's almost $2500 per day extra.
YIKES!
As I mentioned the other day, we've booked a Larger Inside Room on our Alaska cruise, but the size is relative, I guess. Because at 233 sqft, it's 28 sqft LARGER than the largest room on our Viking cruise ship.
NICE!
As usual Brandi's family goes all out on Halloween decorating in their yard. It looks really good in the daylight,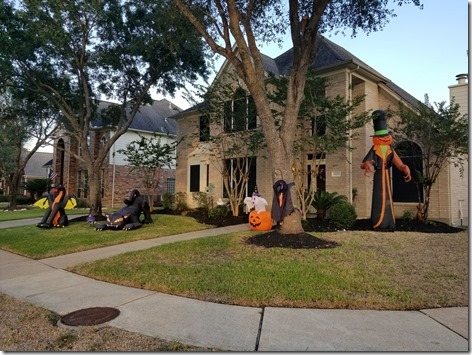 and even scarier at night.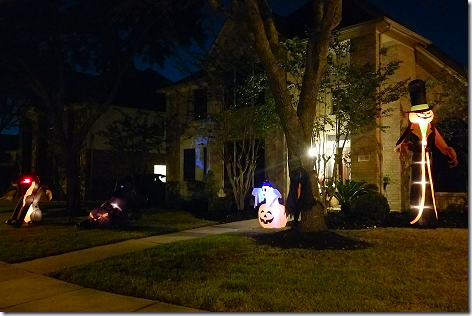 BOO!
Jan and I will be puppy-sitting at Brandi's while they're out of town for Thanksgiving with friends up in Cleburne, TX. So when we were up at Brandi's last weekend Jan started getting in some practice.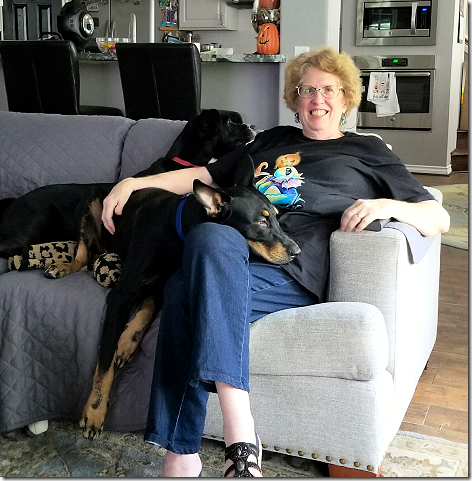 Looks like Jack and Baxter are already breaking her in.
---

Thought For The Day:
"It is dangerous to be right in matters where established men are wrong." – Voltaire
gsf