Daily Archives:
June 1, 2021
Jan and I headed to lunch about 1pm, and as happens sometimes, we didn't know where until we were actually on the way. But we ended up at Los Ramirez Mexican once again.
Always good.
Then our next stop was right down the street to the Take 5 Oil Change place to get the Jeep taken care of before our upcoming trip. This was our first time to use Take 5, and I was impressed by two things.
The first is that, unlike JiffyLube and others, Take 5 let's you stay in your car while they're doing the oil change. And two, oil changes having gotten expensive since the last time I had it done, rather than doing it myself.
$65 for regular (non-synthetic) high mileage 5W30. Ouch!
Then it was one last stop at HEB for a few things before heading home.
Later I got two of the four front solar screens installed, but it looks like I'm going to have to reposition a couple of the inside magnets that have come loose.
That's for tomorrow.
While I was outside I also hooked a Harbor Freight battery maintainer to the Dakota battery to keep it charged up while we're gone and later. Saves me from putting my charger back on it every few weeks.
A couple of weeks ago it was announced that the I-40 bridge over the Mississippi River at Memphis had been closed indefinitely due to cracks found during a recent inspection.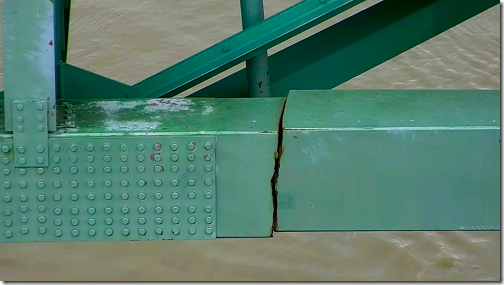 For a while Mississippi River water traffic under the bridge was also closed, backing up barges up and down the river. Though river traffic has been restored since the first phase of the repair has been completed, they say it will be still be AT LEAST several more months until the bridge is reopened to vehicle traffic.
So why I'm posting this?
Well, we'll be traveling through there next Tuesday on our way up to Illinois. Now we will be coming up I-55 from LA/MS and will be crossing the I-55 bridge down south from the broken one.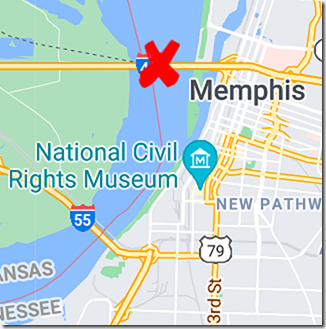 But having crossed both bridges a number of times when we've been staying in the area, the traffic is pretty thick on both bridges at the same time. So I was wondering about possible backups on the I-55 crossing since it is now carrying the traffic from both bridges.
But I've seen several FB postings saying that it's not a problem, especially since we'll be passing through in the middle of the day rather then the morning or afternoon rush hour.
One less thing to worry about.
---
Thought For The Day:
Burning your bridges behind you takes too long. I prefer explosives.