Daily Archives:
June 13, 2021
We left Jan's sister Debbie's a little before 9 this morning, heading south for the second leg of our Southern BBQ Tour.
We had such a great time at this reunion, and are already planning to do it again next year, but on a beach somewhere down south.
We passed through Illinois, Kentucky, and then into Tennessee, where we made the second stop on our BBQ Tour, at long-time favorite Famous Dave's BBQ. We first came across Famous Dave's staying in Billings, MT on our way to Alaska in 2008, and since then we've eaten there all over the country.
So when I found that there was one in Nashville, well, Hermitage, anyway, it became a must-stop on our trip. And it was as good as always.
We both had the Ribs, Jan's with BBQ Beans and Fries, and mine with Beans and Collard Greens.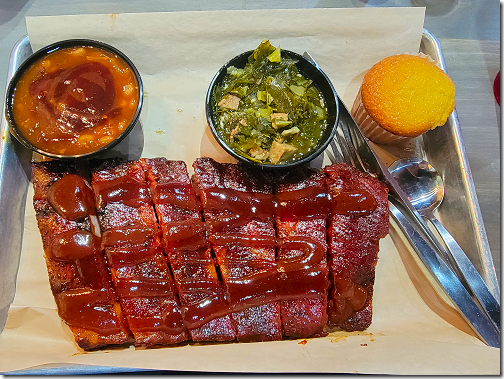 And of course, we had to split an order of their Bread Pudding.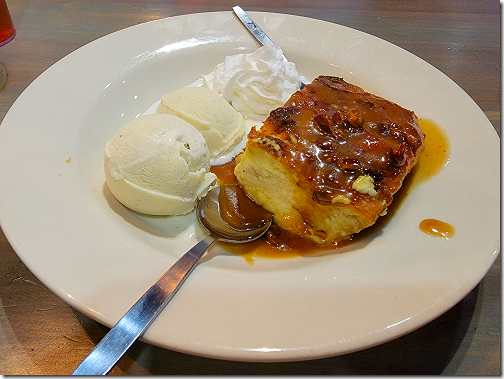 Jan says it's pretty much the best Bread Pudding around. I think maybe it's a toss-up between this one and the Krispy Kreme Donut Bread Pudding at LuLu's in Gulf Shores, AL.
One thing we noticed about this Famous Dave's is that though there was hardly a mask in sight, and all the people who were waiting for a table were sitting side by side in chairs in the lobby, they still have every other table shut down.
So why?
We got into Athens and our Day's Inn about 5pm, and since we'd had a big lunch, we were in for the night.
Tomorrow I'm going to start contacting relatives to set up times when we can get together over the next couple of days.
Then Wednesday we'll head down to Birmingham for more friend get-togethers,
---
Thought For The Day:
Here's all you have to know about men and women:
Women are crazy. Men are stupid.
And the main reason women are crazy is that men are stupid.
George Carlin