Daily Archives:
June 15, 2021
This morning, our second here in Athens, started with a visit to the WalMart right down the street. Then we spent the next several hours just driving around Athens checking out all the changes, and the places we lived.
This is the house my parents bought after we moved back from Colombia, SA in 1963. It was brand-new when they bought and still looked good when we took this photo in July 2018. Looked really good for a 55+ year old house.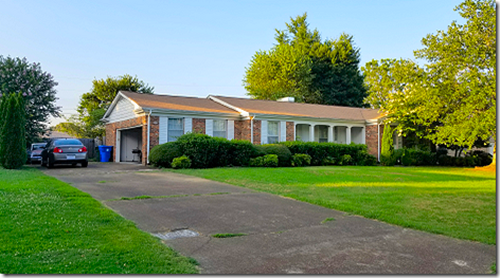 However when we drove by today, though it still looked good, there was a construction dumpster in the driveway, and all the shrubbery and trees had been taken down and were laying in the yard.
There was a woman walking across the yard and I stopped and asked her about it, telling her my parents used to own it. She said that she and her husband had just bought it about 3 weeks and were completely redoing it.
Besides the landscaping, she said it was gutted down to the studs inside. Glad to see it being treated right.
Next up was the duplex Jan and I rented back in 1969 before I went to work as a DOD contractor, and we started traveling around the country to different military bases.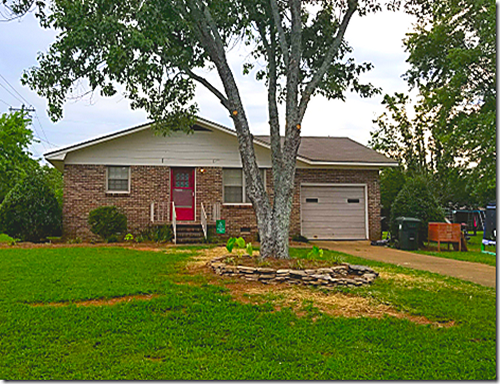 Also still looks good, though the tree wasn't there when we were.
As we drove around some more, I was looking for all the places around town that I helped build. I spent two summers working for a heating, AC, and plumbing company, including a big shopping center. But the only one that I can that's still around is now called Ro's Grille.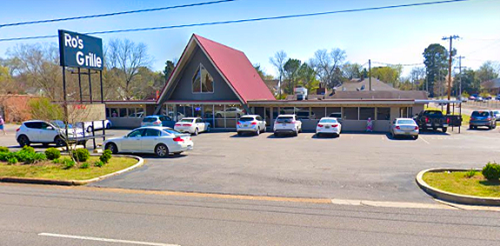 Still in business, still busy, and looking good.
While we were out and about, we also drove by what is probably the most famous house in Athens, AL.
Needless to say we always called it The Parthenon House.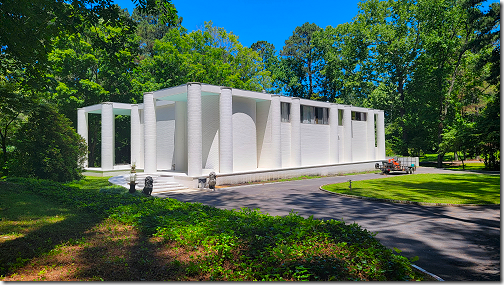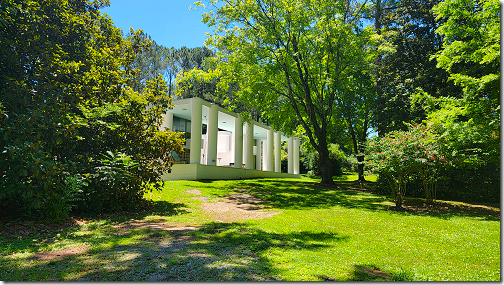 Designed by famous architect Paul Rudolph, it was on the cover of Life magazine, and featured in a number of other magazines. And I dated the girl who lived here for a while before I went off to college.
It was nice to see that a lot of the shrubs that were obstructing the view of the house have been cleared away since the last time we were here.
About 12:30 we showed up at my cousin Margie's house to take her to lunch. Margie is my mother's first cousin, making her my first cousin, once removed. At least that's what the Internet says.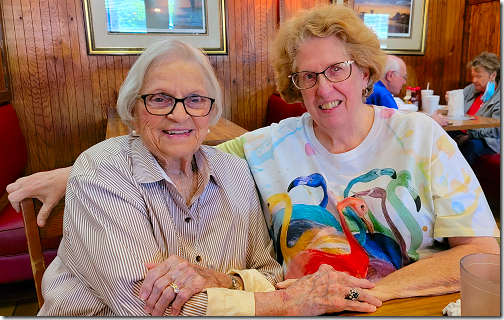 Margie is a very spry 92 and still going strong.
Our lunch destination was Big Bob Gibson's BBQ down in Decatur. Listed on pretty much everyone's Top Ten BBQ restaurants in the country, one entire wall inside is covered with trophies, medals, and blue ribbons highlighting their contest wins.
And it's always on our menu when we're in the area, too.
While Jan and Margie got sandwiches and fries, I got the Little Bob Sampler Platter with Pulled Pork and Sliced Brisket.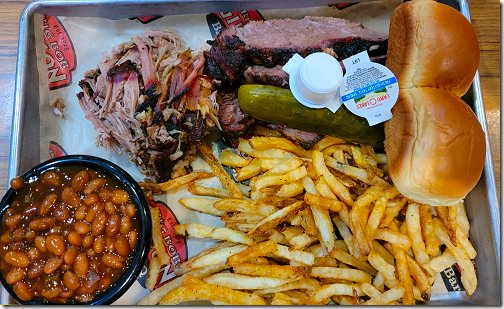 Makes you wonder how big the Big Bob Platter would be.
Really, really, really good.
Besides their BBQ, Gibson's is also very well known for their great homemade pies. While Jan and Margie split a piece of their Chocolate Meringue Pie, I got my usual Peanut Butter Pie.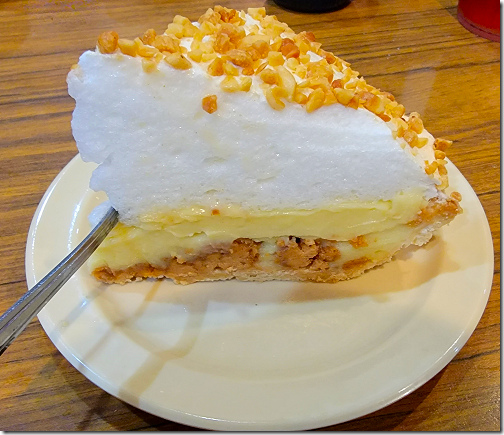 Really, really, really, really good.
We spent a good while just sitting and talking after we finishing eating, so long that our waitress asked me if I would mind going ahead and paying the check since she was going off-shift and wanted to cash out. No problem, and we talked for a while longer before taking Margie back to her house.
Where we talked for a while longer. Hey, it's been awhile since we've seen her and we had a lot of catching up to do.
It seems Jan can collect new flamingos for her flamboyance even while we're traveling. She found these two on Facebook, and they may be waiting for her when we get home.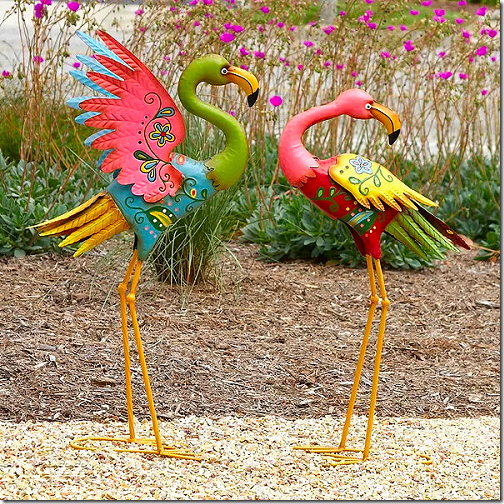 The tall is 32" high, so they're not small.
Tomorrow we're heading down to Birmingham for one night to catch up with old friends Bill and Carol Alverson. Bill and I worked together at TV and radio stations in Birmingham in the mid 70's.
It will be good to see them again.
---
Thought For The Day:
"Unlimited power in the hands of limited people always leads to cruelty." ― Aleksandr Solzhenitsyn