Daily Archives:
June 30, 2021
I've been looking over sous vide recipes for doing our ribs this weekend, and it's all over the map.
165° for 12 hours, 150° for 24 hours, or 145° for 36 hours. Rub or no rub. Salt or no salt. Marinate in vacuum bags overnight or not. Sauce or no sauce.
Or the ultimate blasphemy of them all, Liquid Smoke or not.
I think I've decide on how I'm going to do them, hoping that they come out looking like this example from the recipe I'm using.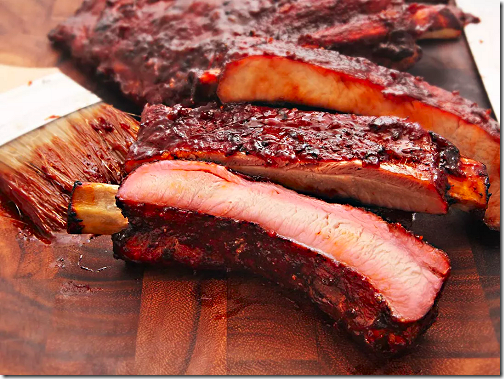 I'm not going to detail procedure yet because I'm sure that someone (everyone?) will be quick to tell me how I'm doing it wrong.
Now, chili. Beans or no beans?
I mentioned on Monday that I was ordered a new HP printer for work, not because of a printer problem, but because the scanner had cratered. And I probably scan more documents every day than I print.
And when I ordered it, it said it was available for Next Day Delivery. Great! But a little later when I looked at my Amazon orders, it now said that delivery would be between July 12 and 27th.
I guess they suddenly ran out of printers. So I quickly cancelled the order and started looking again. But quickly found nothing available on Amazon.
So ranging further afield, I found I could order it from WalMart, but it wouldn't be delivered until July 7th. And there wasn't one available for in-store pickup anywhere in Houston.
But then I found it at Staples. Same $120, Free Delivery, and it would be here this Friday. So I put my order in. Then today my tracking info said it would be delivered by FedEx tomorrow, Thursday.
Go Staples.
Things are looking up.
According to this article, Elon Musk has said that his Starlink service will be available 'globally' in August. Sure hope that 'globally' includes a little south of Houston, TX

---
Thought For The Day: