Monthly Archives:
July 2021
While we sat outside on the patio with our coffee this morning I was experimenting with the camera on my S21 Ultra and it continues to amaze me.
This is a photo I took of a cardinal about 50 feet away using the standard 1X magnification. That's the little red dot on top of the branch.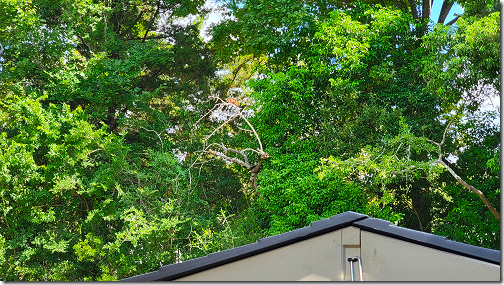 And this is the same shot using the 10X optical zoom.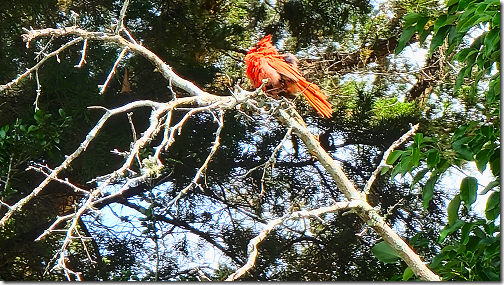 What continues to amaze me about this camera is how good it is at knowing what I'm taking a photo of. I mentioned before how it knows that I'm taking a picture of plates of food, but yet if I pan off the plates and just shoot the table, the little food icon goes away.
And even when I took the 1X photo of the cardinal it recognized that the little red dot was an animal.
So how does it know?
A couple of days ago I posted a side-by-side photo of 4K video vs HD, so I thought I'd also post this one of SD vs HD.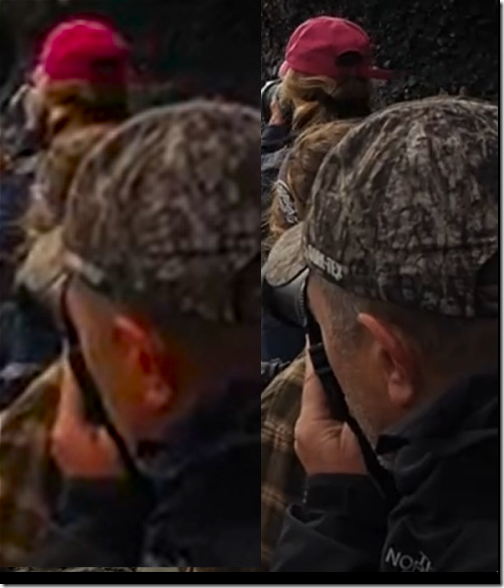 To me, it's a more noticeable difference than the one between 4K and HD. And at least we can stream HD now, but we're going to have to wait for Starlink for the 4K stuff.
Jan and I had lunch a Gator's Bar & Grill once again, and as always, really good. Then it was on up to Webster so Jan could pick up some stuff at the Big Lots. It's been years since I've been in one, and it's really changed. In fact, it's more like a high-end Dollar General now, just bigger, with more stuff, and higher prices.
Our next stop was by the office to pick up an Amazon order that came in after I left yesterday, and then it was on up the street to Krogers to pick a prescription. And the cost, $6, just reinforced my decision to switch all our prescriptions to Krogers' Pharmacy Plan. In this case the same drug would have been $24 at WalMart/Sam's.
Coincidently our next stop was at WalMart/Sam's for a few things before we headed for home.
All in all a very nice day.

---
Thought For The Day:
Intentionally losing a game of rock, paper, and scissors is just as hard as trying to win.
Jan and I spent this evening starting to book stuff for our Christmas in Branson visit. First up were our tickets to Yakov Smirnoff's show on December 5, the day we arrive in Branson. We had to do this one first because that's his last show of the season.
Next up we got tickets to see SIX once again, on Monday at 8pm at the Dick Clark's American Bandstand Theater. Again, we were kind of constrained by the times of their shows and the times we had open.
Next up was a Dinner Cruise on the Branson Belle, the riverboat that cruises Table Rock Lake. We had hoped to do the 8pm one, but they didn't have any open during the week we're going to be there, so it will be an early dinner, at 4pm on Tuesday, the 7th.
One thing I found is that it's cheaper to book directly through the theater, and not through one of the online services like BransonShows.com or others. In fact we saved over $30 on the tickets for Yakov's show alone.
And in other ticket buying news, I went online this morning to the Houston Museum of Natural Science and got tickets to the Pompeii Exhibit there,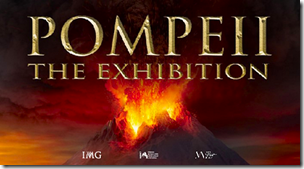 and it's going to be family and friends excursion, with Jan and I, Brandi and Landon, and Landon's BFF, Sophie.
And besides Pompeii, there's also the Body Worlds exhibit,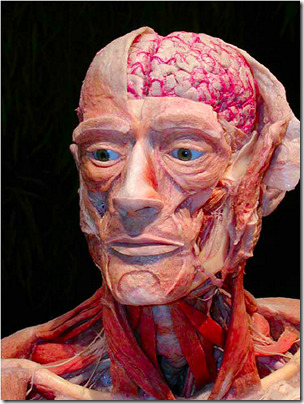 and Victoria, the T-Rex.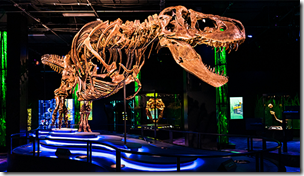 So we've got bodies encased in stone, bodies encased in plastic, and a T-Rex. Sounds like the perfect afternoon for a couple of almost-11 year old's.
And us adults too, of course.
As we've done on past Museum visits, we're going to meet up first at nearby Cleburne Cafeteria for lunch beforehand. A great place to eat.
We're set for August 10th, just before Landon and Sophie start back to school the next week on the 16th.
Then the following Thursday, the 12th, we're meeting Debi and Ed Hurlburt, and maybe Janice and Dave Evans, for lunch at Razzoo's Cajun Café up in Spring. Then coming back south, I'll drop Jan off at Brandi's so she can dog-sit while Brandi, et al, spend the weekend at the lake.
So it'll be just me and Karma for our weekend.
---
Thought For The Day:
"Every election is a sort of advance auction sale of stolen goods." – H.L. Mencken