Daily Archives:
July 5, 2021
As I've mentioned in the past, today is an anniversary of sorts for Jan and I. Fifty Four years ago today Jan and I met for the very first time. And we've been together pretty much ever since.
As I've recounted a number of times before, we were both working at a slightly seedy amusement park in Titusville, FL called Florida Wonderland. It had carnival rides, animals, a marine aquarium, where I worked, and a Western town where Jan worked.
My very first day I walked into the saloon to get ice for the fish I fed the sea animals, and encountered a tall, long-legged strawberry blonde saloon girl. And I was smitten to say the least.
But her, not so much. In fact it took me about two weeks to get her to go out with me. But it all worked out in the end, you could say.
OK, relax, people!
No, we're not in distress. And No, that's not a 'Pride' umbrella either.
The flag pole doesn't really have a top or bottom to it. You just assemble the 3 sections and then the flag itself has ring clamps on it that slide along the pole and then tighten down.
What I didn't notice was that I as I was trying to keep my balance, standing on the top step of the stepladder, trying to get the flag pole fastened to the umbrella pole, I had gotten it upside down. And since the flag itself was kind of wrapped around the pole, neither of us noticed it later either.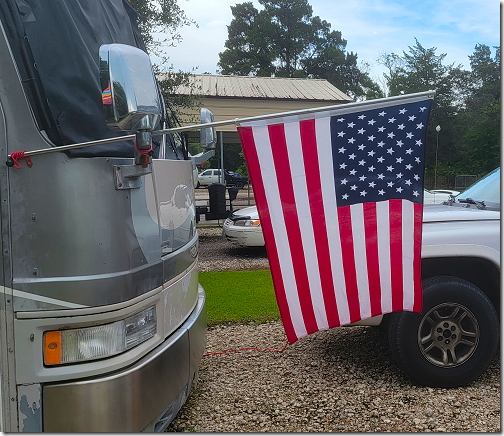 A little before 3pm we were in the final countdown to our ribs with 1 minute to go.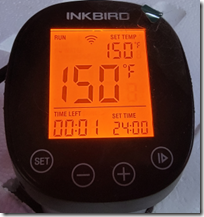 Coming out of the vacuum bags, and patted dry, our ribs looked like this. And actually they were already very tasty and completely done.
And I was happy to see that water in the cooler was still clean and clear which meant that none of the bags had leaked.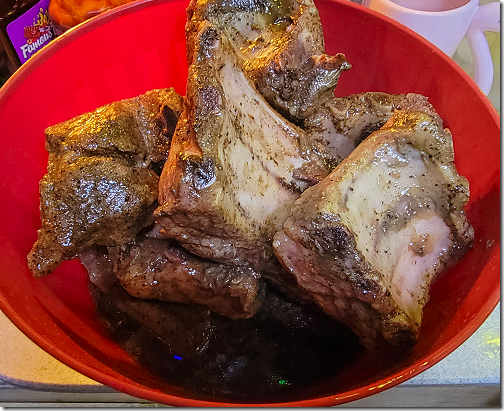 Basted with sauce on the meaty side first, they were on the Weber grill getting a nice char on the outside.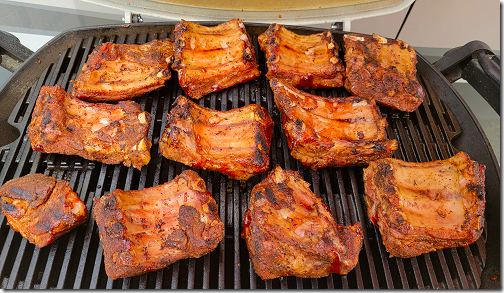 For the next 20 minutes or so, it was back and forth, basting each time, building up that crunchy outside that Jan and I both like.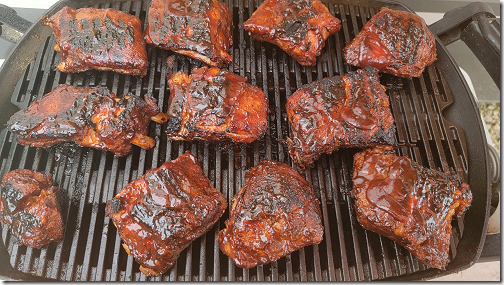 And a few minutes later, they were on our plates, along with loaded potato salad and Bacon & Bourbon Baked Beans.
And the ribs were just as described in the recipe. Tender, juicy, but not soggy. Almost fall-off-the-bone, but not quite. A crunchy sweet crust on the outside and moist on the inside.
In other words, they were DELICIOUS! Have-Again and Again delicious! And actually very easy to do, all things considered, since a lot of the time was spent double-checking things as I went along.
Next up, Ribeye's and Sirloin Strips.
This Just In:
In a major announcement that has shaken the computer community to its core, Microsoft has revealed that in the upcoming Windows 11, the dreaded Blue Screen of Death (BSOD), the screen that tells you that your computer has thrown up its hands and died, will now be BLACK!
Uhhh? Isn't that racist, now?

---
Thought For The Day:
So This Is How It All Started?