Daily Archives:
July 20, 2021
Fifty-two years ago today Jan and I sat in the living room of our friend's Dwight and Betty Elliott's trailer in Tuscaloosa, AL. Jan was holding our 14 month old son Chris in her lap and telling him that someday he could say that he saw man land on the moon.
We were over at Dwight and Betty's because they were our only friends who had a color TV. Of course since all of the TV from the moon was in B/W it really didn't make a difference. (this is a photo taken with a camera on the moon, hence the flag in color)

And in commemoration of the date, Jeff Bezos chose today for the first manned flight of his Blue Origin's New Shepard suborbital rocket. You can watch the 10 minute launch and landing video here,
Besides himself, he took his brother, an 18 year old young man whose father bought him the ticket, and Wally Funk, one of the 'Mercury 13', who were women that went through all the same training as the males, and in Wally's case scored high than the males on many training tasks.
But NASA, Congress, and John Glenn said NO. So even thought Wally Funk has almost 20,000 flight hours, this will be the 82 year old's first flight into space, all 4 minutes of it.
With only 15% percent chance of rain last night we were surprised to have an hours-long thunderstorm last night. It started about 8:30 and just poured down for a couple of hours, with the power going off several times, but just for a few minutes.
Then after it had all died down, about 10:30pm the power went off and stayed off. For about 2 hours before it finally came back. Then about 3am the storm started up again, maybe even heavier this time, but with no power losses.
And checking this morning, our rain gauge showed we've had a little over 6 inches overall.
About 10:30 this morning Jan and I headed up to Conroe to meet up with long-time friend's Debi and Ed Hurlburt at a new place for us, The Catch. And the place turned out to be really good. So enough that we wish we had one down in our area.
We both got the Catfish Filets, Jan's Grilled and mine Blackened. And you have your choice of 4 grilled shrimp or 4 grilled oysters, as well as either hushpuppies or garlic bread. So Jan got the shrimp and hushpuppies and I got the oysters and the garlic bread. Then we split the sides up so we each got some of both.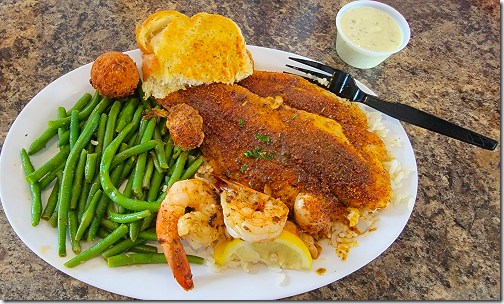 Did I mention it was all really, really good?
One thing different about this trip was how effortless it was. They've apparently reconfigured the lanes and open new ones going through downtown Houston, So the usual traffic bog-downs on the Pearce Elevated just weren't there and we just breezed right through at the speed limit. (or faster, maybe)
Very Nice!

---
Thought For The Day:

When you're a child you make funny faces in the mirror. In old age, the mirror gets even.