Daily Archives:
July 29, 2021
Twin Peaks, of course.
Jan had an appointment to get her toesies done this afternoon, and Twin Peaks was once again her lunch of choice.
Jan went with her favorite Spicy Chipotle Chicken with potatoes and broccoli, and a cup of their Tomato Basil soup.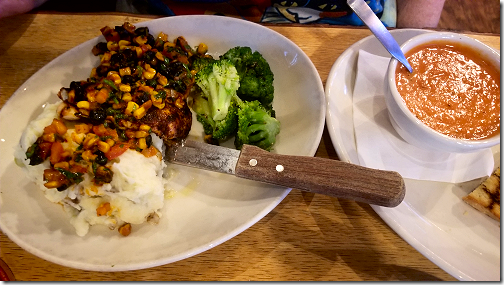 while I got the Soup and Half Sandwich Lunch Special, with a BLT and a bowl of Green Chile Chicken soup.
I didn't get a photo of Millie, our server, who was very good BTW, because she looked to be between 4 and 5 months pregnant, and I thought it would be kind of tacky.
Later, after I dropped Jan off at Crystal Nails, I headed over to the office to pick up an Amazon order and look at a phone system problem.
I've been wondered about 4K video and how it would look on our TV system. Several of our streaming services offer 4K service for an extra cost. But I wasn't sure that I would really be able to see the difference on our TV, and none of them offered a trial period.
So I've been looking for some way to see 4K and HD side by side. Well, I finally came across a YouTube video that allows me to view it in both 2160p 4K and 1440p HD.
The video details a bipedal robot that successfully ran a 5K run. Kind of interesting on its own.
Butt the video allowed me to switch between 1080p HD, 1440p HD, and 2160 4K. And the first thing I discovered was that our WiFi can't handle streaming 4K. It will run for a few seconds, and then freeze and buffer, and then start up again.
But I could stream HD at 1440p, higher than the usual 1080p we stream. And although it was hard to get a good feel for 4K, it was easy to see the difference when I did a freeze-frame side-by-side comparison.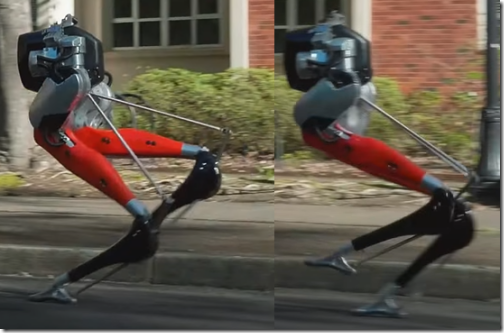 It's pretty obvious how much sharper the 4K on the left is vs the right side's HD version. But it looks like I'll have to wait for our Starlink system to show to have enough bandwidth for 4K.
Finishing up, I want to remind everyone about the GoFundMe account to help bring Leighan Cortes and her father home after their deaths in Germany.
Any help will be appreciated.
---
Thought For The Day:

If you replace "W" with "T" in "What, Where and When", you get the answer to each of them.