Daily Archives:
July 14, 2021
Jan and I have tickets for the 1894 Opera down in Galveston this Saturday to see Yakov Smirnoff. The show starts at 5pm so we've got reservations at the Saltgrass Steakhouse for dinner afterwards.
This will be our second time to see Yakov, but it's been a while, about 12 years in fact. The first time was in November 2009 after we had come back from doing the east coast from Key West all the way up and out to Newfoundland. Then back across Canada, coming back to the U.S. near Niagara Falls.
So how we ended up in Branson, I'm not sure. 2009 was our second year on the road, and we tended to wander around a good bit.
You can read about that here.
And the day before we saw another favorite, Jim Stafford's show. Also really good.
Spiders and Snakes…that's not what it takes…
About 1pm Jan and I had lunch at Dickinson Seafood. We hadn't been for a while, but it was just as good as always.
We both had the Blackened Catfish and Shrimp with Grilled Veggies, which also comes with a salad.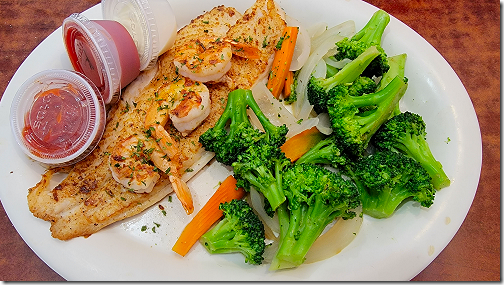 Then it was on up the Interstate to get our hair cut at the CostCutters on FM646. Jan went first, but before she was done and it was time for me, my client called and said that the Shipping Computer had lost its Internet connection sometime this afternoon. And since the other computers were having no problems, it had to be the machine itself.
And after having them reboot and then trying to connect, the machine couldn't see any WiFi signals at all.
So after Jan was done, we headed up to Webster to see what the problem was. Turns out it was apparently a problem with the WiFi adapter, which the computer didn't seem to see at all. Since the adapter was internal, I plugged in an external USB model and rebooted. Still nothing.
So next I pulled the side of the computer and replaced the internal one with a spare, but again no luck with Plan B.
Moving on to Plan C, I dug out the 50 ft. Ethernet cable that I keep tucked away just for times like this, I spooled it out down the hall from the router in the utility room to the computer in the Shipping area. And presto, chango, we had Internet and the shipping could commence
Always have a Plan C.
Normally I would have been at work today, but this week I'm working Monday, Thursday, and Friday, instead of my normal Monday, Wednesday, and Friday. So I'll tear into it tomorrow and see what the problem is.
It's always something.
---
Thought For The Day:
My approach to anything the government says is this: Never believe anything until it has been officially denied.