Daily Archives:
July 18, 2021
Jan and I were on the road up to Katy about 10:45 to meet Brandi, Lowell, and Landon at the new location of Astor Farm To Table.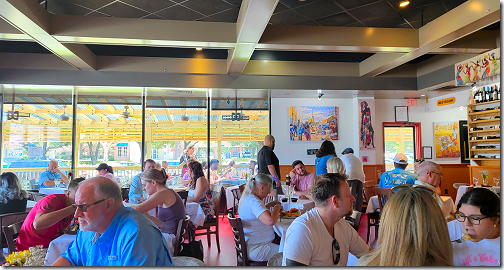 This is a big upgrade from their former location, believe me.
Jan got their Fresh Strawberry Salad with Grilled Chicken.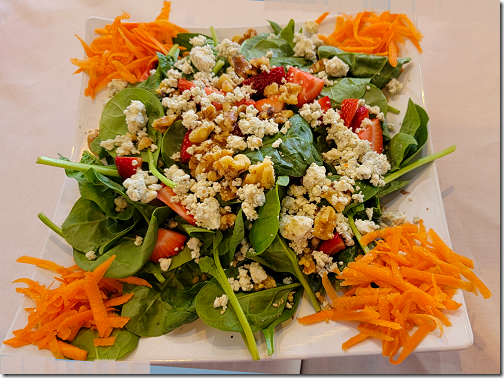 I got the Cowboy Omelet with pretty much everything in it except the African Goat Curry.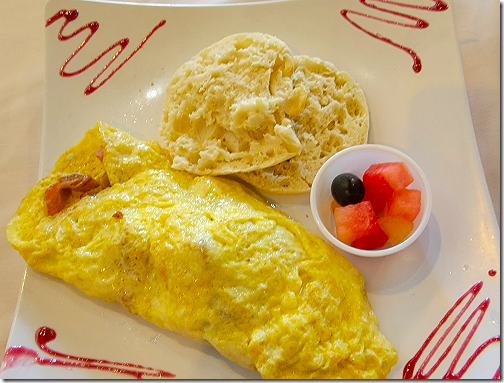 Lowell got the Croissant Eggs Benedict with Roasted Potatoes.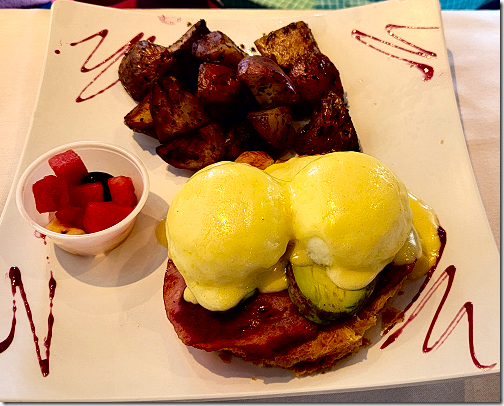 One thing that was kind of funny was the name of the restaurant that showed up on my PayPal debit card usage email,.
"You paid ASTRO FARM TO TABLE using your debit card."
So it looks that when the restaurant owner switched the 'O' and the 'R' when he was entering the name into the credit card system, so ASTOR became ASTRO.
Getting down to Galveston we were lucky enough to find a parking spot in a lot right across the street from the 1894 Grand Opera, and as I said yesterday, we were required to wear a mask both in the lobby and in the theater itself.
But even with the masks being worn, the theater was still 'social distancing'; Or at least that's what it looked like.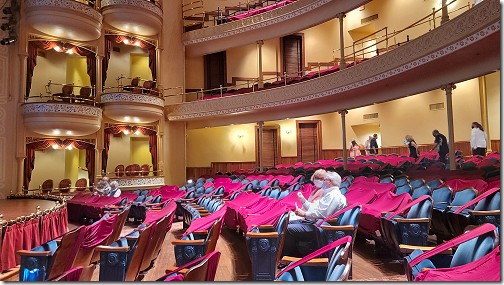 All the seats were socially distance, with the red covers dividing up the blue, usual seats. In fact it looked like less than half the total seats were actually available.
Jan and I really enjoyed seeing Yakov Smirnoff yesterday afternoon. Not only is his stuff really funny, but it makes you think.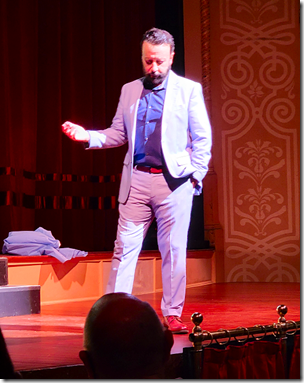 He started saying that he grew up in the communist, socialist Soviet Union where the government was so restrictive and controlling that they told you where you could live, who you could live with, where you could work, where you could travel, where you could eat, who you could eat with, and what you had to wear.
And then he said, "Oh, wait"
That got the biggest laugh and applause of the show.
The performance lasted about 90 minutes with no intermission, and afterwards, Yakov came out to the lobby and signed autographs and posed for pictures. Though with everyone wearing a mask, you could have been having your photo taken with just about anyone, and just said it was with Yakov, I guess.
Being on the far side of the theater exit, by the time Jan and I got to the lobby, there was a very long line waiting to see him, so we left for our Saltgrass dinner reservation.
And to paraphrase Jerry Seinfeld, it seems that when the Galveston Saltgrass Steakhouse takes a reservation, they keep the reservation. This is the 3rd time that we've had a reservation down there during a very busy time, and we've also been seated within a couple of minutes of our arrival. And I always ask for a window table, if possible, and we've always gotten one.]
Since I've posted photos of our steaks previously, I won't do it again. But everything was as delicious as always.
---
Thought For The Day: