Daily Archives:
July 6, 2021
Wrapping up yesterday's Rib Fest, I'm very happy with our Inkbird Sous Vide Immersion Cooker.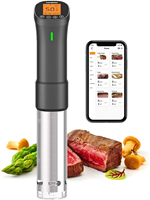 And at about $55 after the built-in discount coupon, it's a great deal.
It's very quiet, and very fast to raise the water temperature to the desired point. And I was surprised at how tightly it held that desired temp.
During the 24 hour cooking cycle I never saw it deviate even 1 degree from the 150° set point. But it was very sensitive, because when I added a couple of cups of water, the temp would drop to 149° for a few minutes before popping back up to 150 again. And without any overrun up to 151 or so.
The phone app was very easy to set up, and even warns if it should run low on water. You can monitor it from anywhere you have a phone connection. And it texted me when the cooking cycle is done.
So as I said yesterday, sometime in the next couple of weeks, it's Steaks.
A little after 1pm Jan and I headed over to Gator's Bar & Grill for lunch, and then it was on up I-45 to WalMart for a few things before heading back toward home. But on the way we gave ourselves a special treat.
Whataburger has been advertising another of their limited-time shake flavors, and this time it's Peaches & Cream. And the shakes were fantastic, like biting into an ice-cold peach.
If you have a Whataburger near you, give it a try. You won't be disappointed, believe me.
Recently I came across a site called Daily Time Waste, and it is that. One of the areas is entitled PHOTOS THAT SHOW THE BREATHTAKING POWER OF NATURE. And here's an example.
This is Fernandina Beach, FL at the first low tide after Hurricane Matthew. Just WOW!
Check it out.
This is a photo of a brand-new SpaceX Falcon 9 before its first launch, and after 8 flights into space.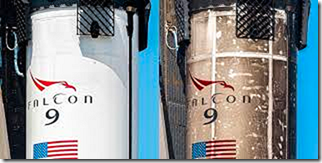 I guess it doesn't need to be clean to fly into space.
And here's a great video of a recent Falcon 9 landing back at the Cape. On most flights the first stage has to land on one of the drone ships out in the Atlantic because they don't have enough fuel to make it all the way back to the Cape. But this launch was to put satellites into a polar orbit. So it was able to come back to the Cape.
The first part of the video shows the Falcon 9 on a tracking camera as it comes down to land. For the first 6 seconds or so, it's just free-falling down from space. Then they ignite 3 of the 9 engines to bring it safely down to the landing pad.
Just amazing.

---
Thought For The Day:
Sometimes the thoughts in my head get so bored they go out for a stroll through my mouth. This is rarely a good thing.