Daily Archives:
July 24, 2021
We sat outside with our coffee again this morning, really enjoying the nice weather. Especially after all the rain we've had recently It was only about 80° with a nice breeze, perfect patio weather.
We were also admiring Flamingo Frank in Paradise (yes, that's his name), Jan's latest addition to the Flamboyance.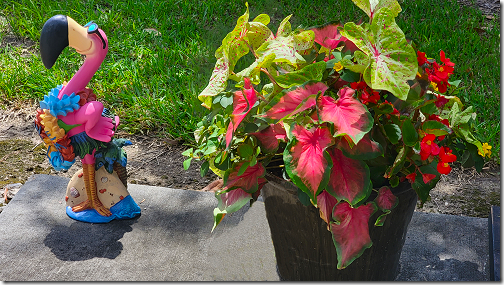 But because he's a statue we decided he would look better on the patio rather than out with the rest of his buddies.
We left the rig about 11:30 this morning, with plenty of time to meet friends Janice and Dave Evans up at the Floyd's Cajun Seafood in Webster. At least we thought we had plenty of time, but some 'brilliant' highway planner decided to put shut down the northbound side of I-45 to one lane. All three lanes. Down to one.
And, believe it or not, the southbound side, too.
So, on one of the first nice, rain-free weekends in a good while, they shut down the main road to and from Galveston.
Brilliant!
So our normal 20 minute trip took us almost an hour and 20 minutes. So Janice and Dave were already there when we finally arrived.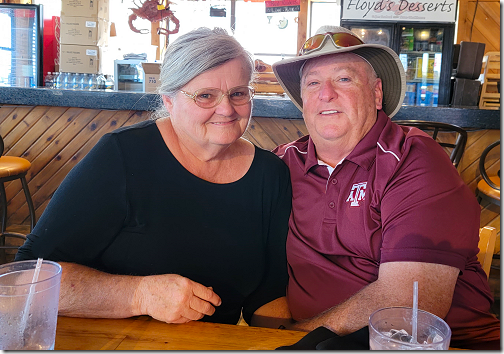 But we quickly got our orders in while we caught up with each other's adventures.
Jan got her usual Grilled Catfish and Veggies, and a Side Salad. I was also thinking about getting the Side Salad along with my usual bowl of Shrimp Gumbo. But as I looked over the menu, I saw Floyd's 19th Hole Salad. I think I'd probably seen it before, but I guess I'd never really read the description. But then the word 'Wedge' caught my eye.
So along with my Shrimp Gumbo,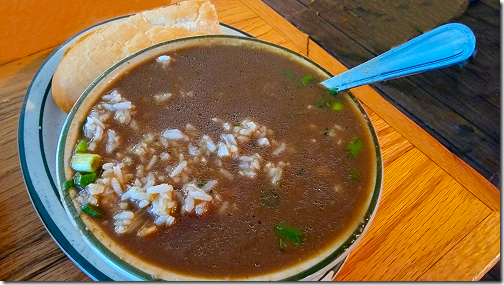 I got this really good Wedge Salad.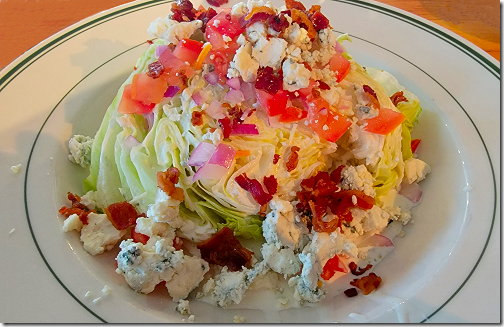 Rather than being just a wedge, it was more like half a head of lettuce. And they really piled on the Bleu Cheese too. Really delicious.
It was really good to see Janice and Dave again, and we're already planning our next get-together in August.
Coming home we decided to take Hwy 3 back down instead of the Interstate to avoid the 3 miles of bumper to bumper traffic.
But guess what?
Some 'brilliant' highway planner (the same one?) decided that this would the perfect time to narrow Hwy 3 down to one land going and coming for repaving.
So we were back in bumper to bumper traffic once again.
Brilliant!
With this past week being so busy, we're just staying home tomorrow and grilling hot dogs and brats on the Weber grill.
Tasty.

---
Thought For The Day: