Daily Archives:
June 4, 2021
After another day of pretty much all-day rain, things are getting pretty soggy around here. But not too soggy to keep Jan from going into work with me so she could get her toesies done, and then do some shopping, getting stuff for our trip.
And it looks to rain all weekend too. In fact our fav Gator's Bar & Grill was supposed to have their Grand Opening this weekend, but they've put it off until next weekend, assuming it's not still raining, of course.
But we still plan on eating there for lunch tomorrow anyway.
But it's forecast to slack off Monday morning when we're supposed to head out of town. We hope.
For all you Murdoch Mysteries fans, Jan and I just finished up streaming the 11 episodes of this year's aborted season 14, so we were very happy to hear that they've just started filming a super-size Season 15 with a whopping 24 episodes.
Really looking forward to that.
A Change of Plans:
After getting a lot of input, both direct and online, I've decided to make a detour around Memphis, or at least enough of a detour so we don't have to go over the I-55 bridge to Arkansas.
Everything I'm finding says 2-1/2 to 3 hours to get across the bridge during the day. So based on some other recommendations I've plotted a route around Memphis and up US-51 until it intersects I-155 which takes us back over to I-55.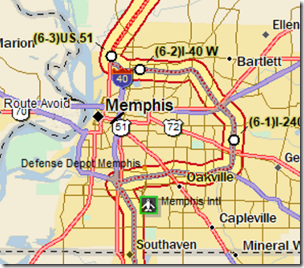 And it's actually only about 24 miles further than the route across the bridge.
When it absolutely, positively has to there in 40 minutes.
The U.S. Space Force is talking to SpaceX about using their rockets to deliver important cargo anywhere in the world in less than an hour. Called Rocket Cargo, the program hopes to send 30 to 100 tons of supplies, and later, maybe, troops to a potential 'hotspot' on the other side of the planet in minutes. And if it's too rough or dangerous to land, the the cargo would be air-dropped into the area.
And strangely enough, the government has been talking about doing something like this as far back as 1963 with this concept.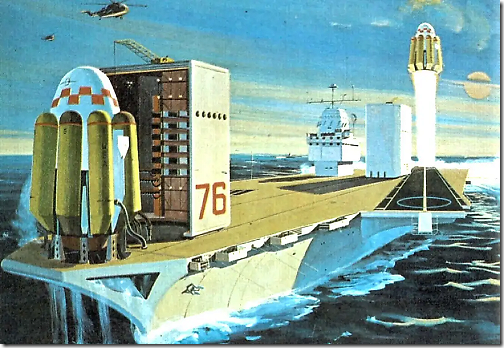 Nothing new under the sun, I guess.
---
Thought For The Day: