Daily Archives:
June 14, 2021
On our first full day here in Athens, I started checking in with friends and relatives, trying to set up times to get together.
But while I was on the phone/text/FB messenger, we walked up to the office for the free 'breakfast', expecting not much of anything. In fact, at our La Quinta where we stayed last Monday down in Brandon, MS, the 'free' breakfast consisted of coffee. Just Coffee.
So we were pleasantly surprised to find biscuits and sausage gravy, scrambled egg patties, cereal, fresh fruit, juice, yogurt, etc. The same breakfast we had here back in February 2020, the last time we were here.
Kudos.
But we had already set up lunch today with an old friend, actually a girl I once dated. Once. I was dating her sister Jan at the time, but she got grounded due to flunking a test I believe. However, since I had already bought tickets to something, Jane suggested that I take her younger sister, Anne. (That's Anne with an 'e', I'm supposed to say.)
Anne was, I think, only 14 at the time, and this was her very first date. And our only date. So that's why I say we once dated. Once.
After going through several restaurant selections down in Decatur where Anne lives, and finding them closed on Mondays, we finally settled on Let's Do Lunch, a Tea Room type place that closed at 3pm.
The reason we were meeting Anne and not her sister Jane is that I was really saddened to find out that Jane had died back in March of 2019. And after my cousin told me this, I tracked Anne down on the Internet to give my condolences and find out what happened.
In fact I hadn't seen Anne (or Jane) since the summer of 1967.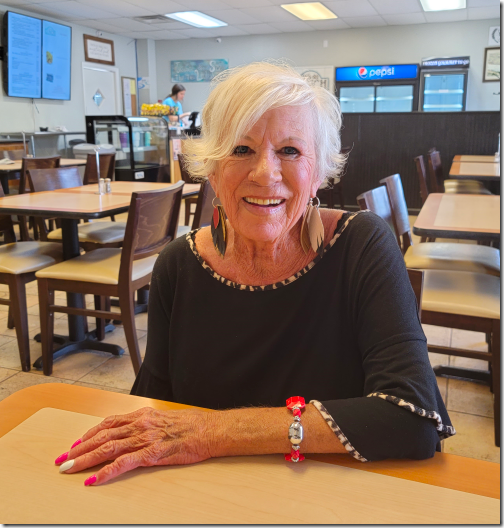 But the thing I worry about now is that Anne and Jan quickly bonded like BFF's. I've always heard that when your wife and an ex-girlfriend (kind of) get together, it can only mean trouble.
I guess I'll find out now.
For dinner tonight we met up with cousins and second cousins over at Rosie's Cantina over in Huntsville. We've eaten for years and it's really good Mexican food.
Helen and her husband own the family RV park where we've always stayed when we were RV'ing, but we always get together whether we're in our RV or not.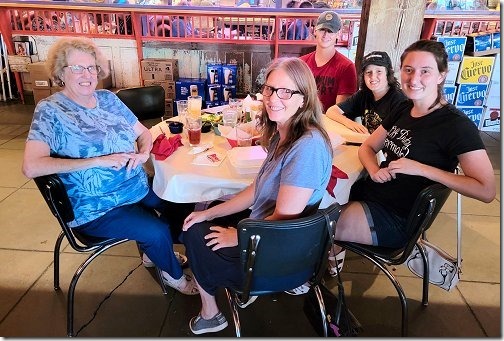 From the back, that's Luke, Harland, Darby, and their mother Helen.
Really nice people!
Tomorrow we're going to get together with my cousin Margie for lunch at Big Bob Gibson's BBQ down in Decatur. And I'm still trying to catch up with my Aunt Lenette.
But we'll see.
---
Thought For The Day:
If Drinks Could Talk:
Coffee – You can do this!
Wine – You don't have to do this!
Tequila – Holy crap! Did you really just do that!!