Daily Archives:
June 7, 2021
After running through my checklist, turning off stuff, like the water and the water heater, and turning on stuff, like the lights on timers, etc.,, we were pulling out of the park about 6:50am, a little ahead of schedule.
Traffic was not heavy at all, and our first stop was about an hour later at the Buc-ee's in Baytown for coffee, kolaches, and gas, and restrooms, of course.
Next up was the rest area as we entered Louisiana about 90 minutes later for a pee-break, due to the Buc-ee's coffee.
Two more hours found us at the Pilot/Flying J in Beaux Bridge, LA for restrooms, gas, and Jamocha Shakes from the Arby's, which was our lunch. We had plans for a big dinner.
Ninety minutes later, and we were turning north on I-55 heading for Jackson, MS (actually Brandon, MS), our overnight stop. And with one more rest area rest stop, we arrived at our destination about 2:30, and the reason we were staying out in Brandon, Sonny's BBQ.
Sonny's BBQ is one of our long-term favs, for two reasons. It's really good BBQ, with an emphasis on Sliced Pork, and personally, because it's where Jan and I went on either our first or second dates. It's a tossup.
It was either Lum's Hot Dogs, the ones steamed in beer, or Sonny's. And neither of us can remember which was which.
And of course, I have a little Lum's trivia. After peaking at over 450 restaurants in the early 70's, with locations in every state, except Alaska, and even in Puerto Rico, But with a lot of bad decisions by new owners, the chain, like many others, faded away, with the last one closing in either 2009 in Davie, FL, or in 2017 in Bellevue, NE, depending on which article you read.
So now you know.
And like most places we go, we have our favorites here too.
Jan always gets the Big Sliced Pork Sandwich with Beans and Fries,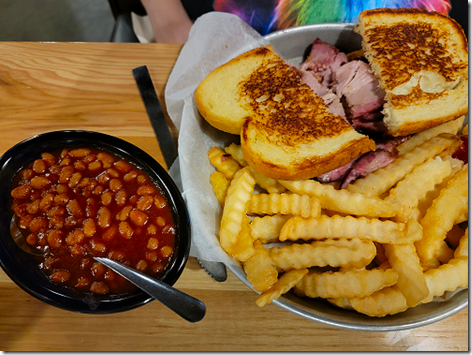 while I get the Pork 3 Ways Platter with Beans and Beans.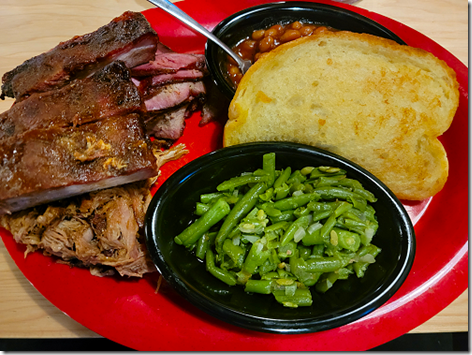 That's Sliced Pork, Pulled Pork, and Ribs. All great.
Finishing up, and really full, we were only about 2 miles away from our La Quinta hotel, and we were in our room by 3:30pm.
Our room here is pretty disappointing, especially for a La Quinta. But more about that later.
We're getting another early start tomorrow, because we've got another surprise lunch stop, ending up at Jan's sister, Debbie's, tomorrow afternoon.
There's a reason the subtitle for our blog is Eating Our Way Across the USA.
---
Thought for the Day:
What a Difference a Few Months Makes –