Daily Archives:
June 5, 2021
Though it was supposed to be raining this morning, it was bright and sunny when we got up, with temps in the high 70's.
And it was still clear when headed out about 1pm for lunch at Gator's. So we were wondering if Gator's owner, our friend Margie, was regretting her decision to cancel her Grand Opening for this weekend due to the heavy rains in the forecast.
But though it was sunny and clear when we left the rig, the closer we go to Gator's the darker it got. And by the time we got to the restaurant, it was all black clouds and pouring rain. So much so that I let Jan off as close to the door as possible before I went and parked..
But once inside the food was as delicious as always. Jan once again got her new fav, the Blackened Redfish, with a side salad and the Roasted Broccoli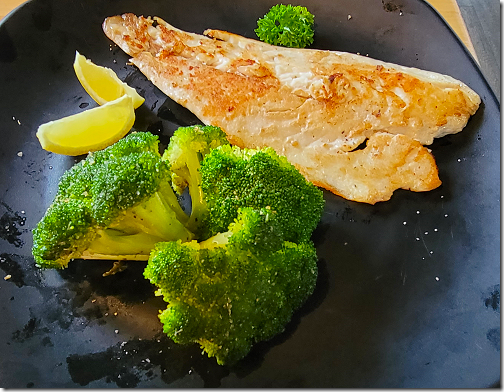 And this time she got it without the Andouille Sausage Cream Sauce that normally comes on it. Last time she said it kind of overwhelmed the delicate taste of the Redfish, so no sauce this time.
I got my usual Blackened Chicken Breast Sandwich, adding Texas Toothpicks and Bacon as before, as well as the Sweet Potato Waffle Fries.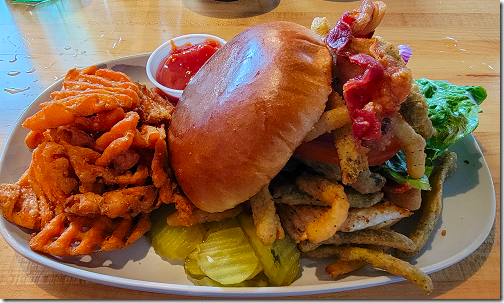 Finishing our great meal we headed up the Interstate to get our hair cut. It's convenient that we both use the same young lady at the local CostCutter's (nee TGF Haircutters), so it's a one-shop stop.
Then it was on up to Clear Lake to pick up a form at the office that needed to be emailed to a customer in Australia, and also pick up an Amazon order that came in late yesterday afternoon.
Coming home we made our last Cowboy Coffee stop for a couple of weeks, getting cold Hazelnut Lattes, and then sitting out on the patio when we got home. We did notice how many buds Jan's Hibiscus has.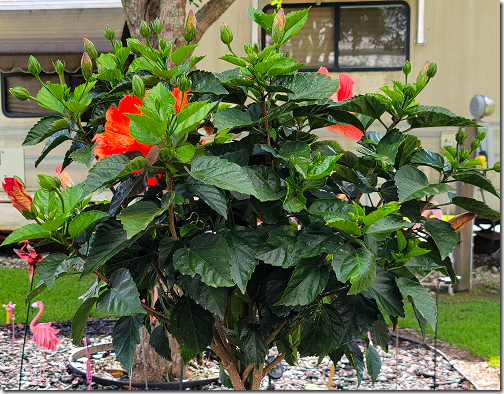 Hopefully with my Rube Goldberg watering system it will still look as good when we get home.
One thing I've noticed when taking photos with my new S21 phone is that it seems to know what I'm taking pictures of. And it has a lot of different modes in doing this.
When I'm taking photos of our food, it knows, and flashes a little message on the screen saying it's going into 'Food Mode'. I thought maybe it was just basing this on the fact that I was focusing on something close, but when I move the camera over to the salt and pepper shakers right next the plate, it switched back to Normal Closeup. It also had Night Mode, Portrait Mode, Landscape Mode, Building Mode, etc.
But how does it know? Scary.
Tomorrow's going to be a really busy day, since we're going to try and be all packed, so we're ready to roll Monday morning. I want to be on the road by 7am to avoid as much of the Going-To-Work traffic as we can. At least a large part of the time, we'll be going against the traffic so hopefully it will work out.
---
Thought For The Day:

I try to be good, I really do. But it turns out I get bored really easily.