Daily Archives:
June 29, 2021
With on and off drizzling, we decided not sit outside with our coffee. Maybe tomorrow.
And it was still drizzling when we headed out about 1pm for lunch once again at Gator's Bar & Grill.
Jan wanted to get the Redfish once again, but they were out. So she went with the Grilled Chicken Breast once again, while I got my favorite Blackened Chicken Breast Sandwich with Bacon and Texas Toothpicks.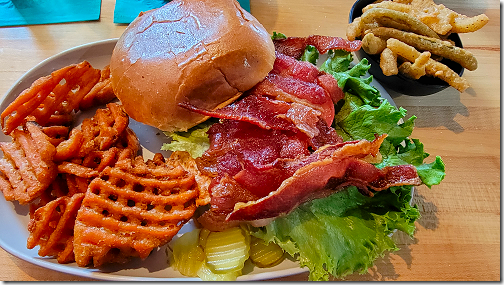 It's obvious why Gator's has been become our new favorite place.
After that we made a stop up at the office in Clear Lake to pick up a bunch of Amazon stuff that had come in, and then it was on over to WalMart for a few things, including some baby back ribs.
Rather than Ribeye Steaks, we decided that the inaugural use of our Inkbird Immersion Cooker will be Baby Back Ribs for the 4th of July weekend, probably Monday, since most of the recipes call for a 24 hour cooking time.
Based on online recommendations we'll be doing the cooking in a Styrofoam cooler with a lid which should help hold the heat in and reduce the need to add water along the way.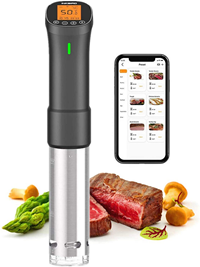 So, expecting a run on Ribs for this weekend, I decided to pick some up today at WalMart while we were there. And I'm glad I did.
The long cooler advertising Ribs was empty except for a brand-new stock of Smithfield Extra Meaty Baby Back Ribs and already vacuum sealed. So two slabs went home with us. But I may open them and use a dry rub depending on which online recipe I used.
Thought it's been overcast and raining the last couple of days, when the sun is shining I've been impressed by how well the solar-powered fountain in Jan's Flamingo Birdbath works. You just drop it in any container of water and off it goes.
---
Thought For The Day:
Like most guys my age, I'm a wooden spoon, lead paint, no car seat, no bike helmet, bed of pickup riding, garden hose drinking survivor.