Daily Archives:
June 22, 2021
Today, our first free day back home, was a time for catching up on a number of errands.
First up was picking up a couple of prescriptions, one at WalMart, and one at Sam's Club. The one at WalMart was the last one on that prescription, and because of that, I hadn't bothered to transfer it to Kroger since there was only a couple of dollars difference.
And the one at Sam's was the same. But in this case I also renewed my membership, but at the Basic level for $45 rather than the Plus level at $100.
The only reason I had the Plus membership to start with was because of the drug discounts that came with it. But since I've moved everything to Kroger, the $55 I saved by downgrading pays a large part of the $72/year that the Kroger's plan costs. And the $17 left over was saved in the first month's prescriptions. And a lot more, besides.
So now all our prescriptions are with Kroger, saving us about $300 a years.
Next up was lunch at Twin Peaks once again.
I know, it's a dirty job, but someone has to do it. Especially since Jan asked to have lunch there.
Jan and I got our usual favorites, Jan's Spicy Chipotle Chicken,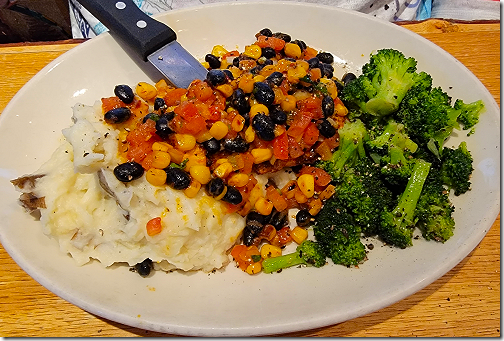 And yes, there is a large chicken breast buried under there.
For me, I got the Billionaire's Burger.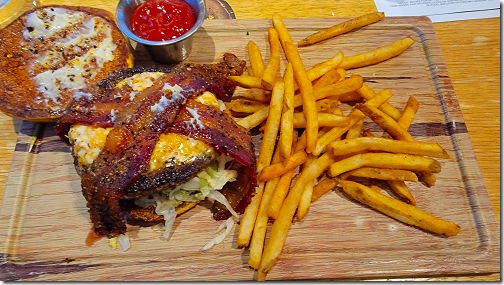 Both delicious. And of course, there's the scenery. After all, their motto is "Good Eats and Scenic Views."
Then, after an HEB stop, we were on our way home.
But while we were at HEB I did notice these in the snack aisle and thought they sounded pretty good.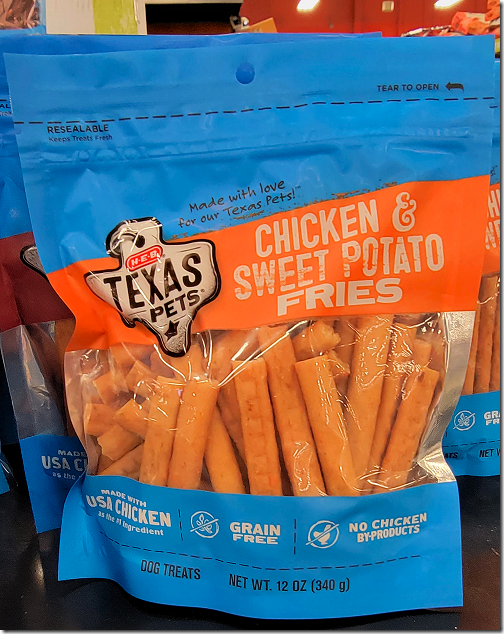 I mean, chicken and sweet potatoes, I like both.
But then I read the label a little more closely. So why was it in the people snack section?
I assuming that someone at the store also wasn't reading the label too closely either. It would be kind of interesting to know how many people also bought them (and maybe ate some) without reading the label closely.
I've been posting 5G speeds from the cities we've been in recently, but as I mentioned before, I'm really disappointed in the 5G speeds here in the Clear Lake area.
Here is the original 4G speed here in Clear Lake.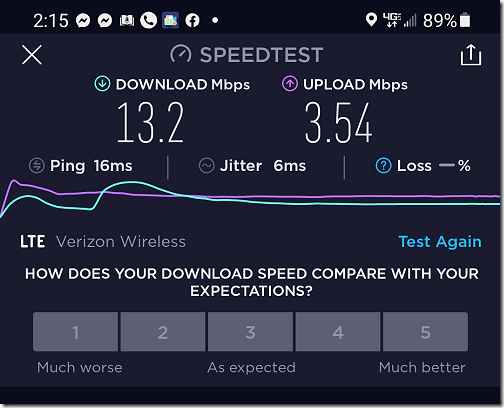 But here's the 5G speed.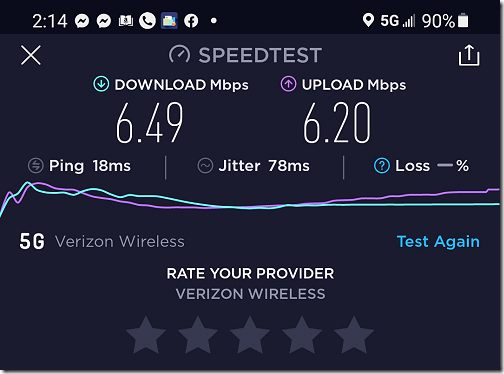 So what's wrong with this picture?
I have heard something about that Verizon is 'running 5G on top of 4G' in some areas, but it wasn't clear what this meant. So maybe that's what this is.
But it is a disappointment.
We visited 3 Buc-ee's 4 times on our recent trip, the brand-new one in Leeds, AL just south of Birmingham, and the kind of new one in Robertsdale, AL about 25 miles north of Gulf Shores. And we also stopped at the one out in Baytown, TX just east of Houston twice, going and coming. One of our favorite stops
At the present the largest Buc-ee's, at a little over 66,000 sq.ft., is over in New Braunfels, TX. But that's about to change. A new one has just broken ground in Sevierville, TN, and at 74,000 sq.ft. it's going to be the new king.
It's located on I-40 just east of Knoxville, TN, and smack dab in the Pigeon Forge/Gatlinburg area of the Smoky Mountains. Should be a big hit.
---
Thought For The Day: