Daily Archives:
June 2, 2021
Today at work was mostly trying to think of things that I need to do before we leave on Monday, making sure plenty of product labels are printed up, cables made up, etc.
I also installed another Switchbot Bot Switch on the AC back in the shipping department. It's high up on the wall, and the remote is kind of funky.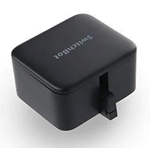 But the real reason is so that we can automate the On/Off schedule, so that it comes on earlier in the morning before anyone comes in to work. As the days are getting hotter here in Texas, it helps if the AC can get a head start on the day.
A few weeks ago I installed on the AC in the lobby and it's been working great. It turns the AC on at 8:45am and off at 4:45pm each weekday, and on at 11am and off at 2pm on Saturday and Sunday.
So it was quick and easy to program the one back in the shipping area for the same times.
We've had on our coffee pot for a couple of years now, for the same reason.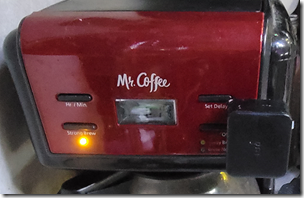 It starts coffee at 7:40am Monday, Wednesday, and Friday when I get up early for work, and 9:40am on Tuesday, Thursday, Saturday, and Sunday when I get up later.
Yes, the coffee pot has a delayed start function on it, but it can't handle the different times on different days thing, plus we have enough momentary power glitches here that clear the clock function on the Mr. Coffee.
In case it's not really clear, the Switchbot Bot is a computer-controlled button pusher. When it's activated a little lever comes out for a few seconds and then retracts.
You can get a better idea from this video.
A really neat, versatile product.
Tomorrow we'll try to start wrapping up all the things we need to do before we leave on Monday. But at least it will get off to good start with lunch at the Texas Huddle Grill and one of their great PB&J Bacon Ghost Pepper Cheese Burgers.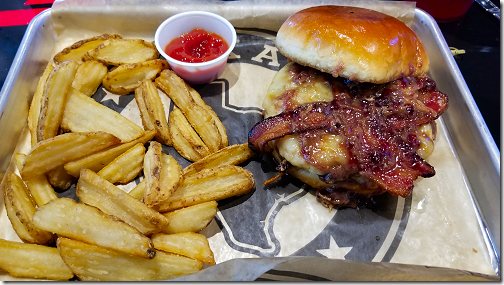 YUM!
---
Thought For The Day:
I'm old enough to remember when the quarantine was only going to be 2 weeks.