Mexi-Cobb and More . . .
After this past week's hurry-up finishing of the ad card for my client's upcoming February sale, I'm going to be sure I'm ready for the next one.
---
---
The next one is in June so I'm going to start working on the ad card now, leaving out only the item prices to be filled in later. Then all I'll need to do is cull the mailing list of the Unknown Address returns, and I'll be ready to go then.
About 2pm Jan and I drove up to the Clear Lake area for a few things. First up was the SuperCuts in Webster so Jan could get her haircut by her favorite lady. But it turns out that she was off today and won't be back until Tuesday.
So then it was on to our next stop, lunch at the Chuy's Mexican Restaurant on I-45. Like many of our favorite places, we pretty much swim against the tide with what we order.
For example, when we go to Outback Steakhouse, Jan's go-to meal is their Alice Springs Chicken, not steak.
Likewise our favorite dish at Chuy's is actually a Cobb Salad, well, a Mexi-Cobb Salad. But really the only 'Mexi' part of it are the green chiles garnished on top.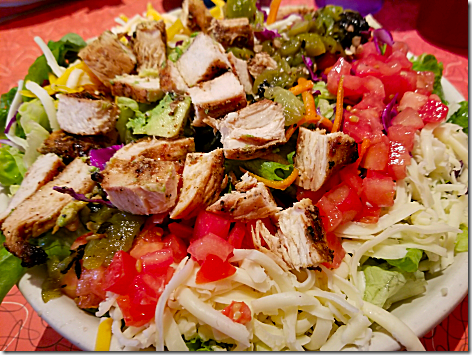 Made with Fajita chicken, two kinds of cheese, avocados, tomatoes, and of course green chiles, all laid out on a bed of fresh, mixed salad greens, it's a full meal all by itself.
Really great!
---
---
One thing neat about Chuy's is the décor. Every room is different.
The one we were in today has a school of colorful wooden fish hanging from the ceiling on individual wires.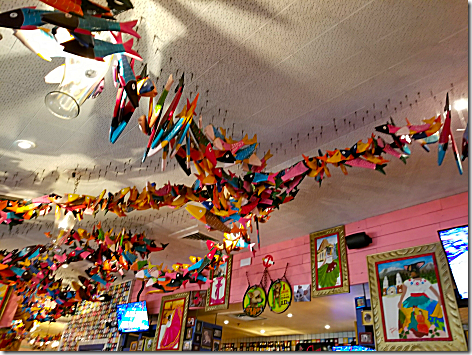 Each one has a slightly different 3D shape and color, and are mounted right along side each other. And the AC blowing keeps them in constant motion, almost like they're swimming along.
In the main dining room the ceiling is completely covered in hubcaps, seemingly all different.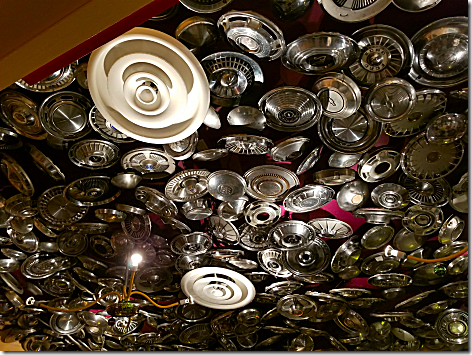 Neat.
Next was a stop at our son Chris' house to get our mail. Jan's still expecting a bunch of hospital bills, but nothing yet. What we did get were a number of tax 1099 forms for this year's taxes. Oh boy!
Then it was on to the nearby Sam's Club to pick up a prescription, and once again I had to get them straight on the price. Originally I had transferred the prescription down from the Conroe Wal-Mart to the one here. But since the last time I got it 3 months ago, the price had jumped from about $30 up to $55. And that was a jump since I got it 3 months before that.
So I checked the Sam's Extra Value List and found they had it for $4 for 30 pills, or $12 for a 3 month supply. So I refused it at Wal-Mart and asked them to put it back into the system. Then I called Sam's Club to have them fill it.
But when I got the text saying it was done, the price was $28, better than $55, but not the $12 I was expecting. So when I picked it up this afternoon, I once again had to get them to correct the price. You have to on top of them.
Tomorrow afternoon Jan and I are heading up to Brandi's in Katy to check out the house that they're renting while they look for a new one. They closed on the sale of their old one last Monday and they're all settled into the new one. Afterwards we'll have linner before we had back to Santa Fe.
---
---

The Word of the Day is: Flakelet
---

Thought for the Day: "The simplest way to explain the behavior of any bureaucratic organization is to assume that it is controlled by a cabal of its enemies." – Robert Conquest's Third Law of Politics