Daily Archives:
February 1, 2018
Jan and I headed out about 2:30 on our way to meet our friend Lynn at the Texas Roadhouse over in Pasadena, but we detoured by our son Chris' to let him pull the oil pressure sensor connector and Strike-Hold it.
---
---
While we were there we got a look at his new (OK, old) bike project. It's a 1998 Yamaha V-Star 650.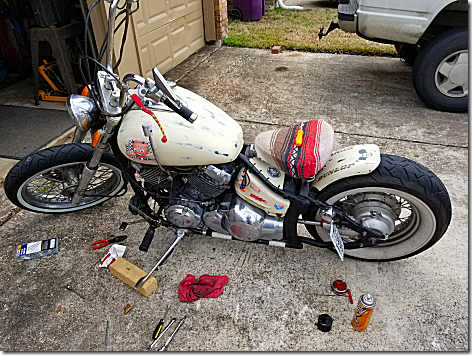 One thing noticeable is this piston as the gear shift knob. I assumed it was a real piston, but Chris turned it out of a solid block of aluminum on his metal lathe . . . which he also made himself.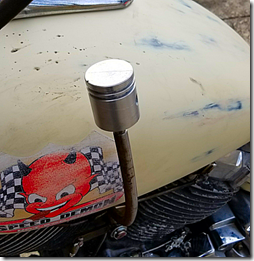 This is his main ride, a Yamaha 1900.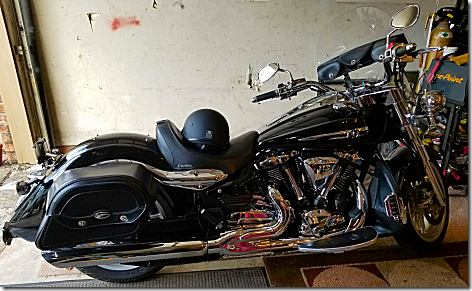 Chris let the engine cool down for about 30 minutes before he took a crack at it. The biggest problem was getting the connector unlatched and off. But once he did, he sprayed it, latched it back on, and then Jan and I headed over to Pasadena to meet Lynn.
And within a few minutes, I could tell that cleaning the connector didn't fix the problem. So now we're looking at the oil pressure sensor again. Stay tuned.
---
---
Jan and Lynn worked together years (mid 80's to early 90's) ago at Medical Center del Oro Hospital up near the Astrodome, Since then Lynn has been in the marriage business.
As Minister Lynn Turner and Associates, she and her group of ministers travel all over to perform your wedding for you. She has some funny stories about weddings performed in prisons and other strange locations.
But my favorite story was when the groomsmen wheeled a coffin down the aisle on a hand truck, the coffin swings open and the groom steps out . . . in full Dracula regalia. Now Lynn had no idea this was going to happen, so she was wondering what the bride was going to be wearing . . . Bride of Frankenstein, maybe?
But the bride was just wearing a standard bridal gown. What's up with that?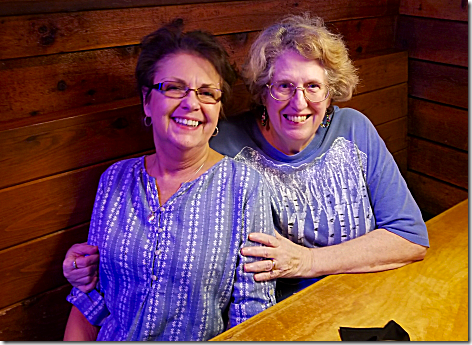 We had a great time seeing Lynn again and we want to do it again soon.
Coming home we made a Wal-Mart stop before getting home a little after 7pm.
Tomorrow's kind of open since I'm not working, so we'll see how it goes.
Before we headed out this afternoon, I set up Drop-In on our Alexa Echo and Dots. This lets us use them as intercoms between each other. It just takes a couple of minutes to configure them and also give each one a location, i.e. Bedroom, Living Room, etc.
Then you just say, "Alexa, Drop In on Bedroom" and you're in a two-way conversation. Then when you're done, you just say, "Alexa, stop."
Neat!
---
---

The Word of the Day is: Epistemic
---


Thought for the Day:
After a shooting spree, they always want to take the guns away from the people who didn't do it." – William S. Burroughs.
fgsfgsfg