Daily Archives:
February 25, 2018
Please remember, Our RV Adventures is an Amazon affiliate. When you do your shopping through any of the Amazon links here, including the Search Amazon box in the right sidebar, it won't cost you any more, but we'll get a small commission on everything you buy. Just click on the Amazon link, then shop as usual. Thanks.
Plus, many of you are sharing our blog with others using the "Share this:" buttons at the bottom of each blog. Again, Thanks.
---
---
Catching up starting with Saturday, I had planned to install my new LED headlight bulbs but both my Clymer's and Hayne's car manuals lied to me. They said that the headlight mounting bolts were 3/8" inch. They weren't
So I had planned to get the right socket when I stopped off at the rig to feed Karma Saturday night, but then I saw it was supposed to rain all day Sunday, so . . .
Never Mind!
Jan and I headed down to Seabrook about 5pm to drop her off at Kathy's for her Annual Coworker Get-Together. Then I headed back toward Santa Fe with a stopover at King Food for a big bowl of Hot & Sour Soup for my dinner.
Getting to the rig, Karma was very happy to see me . . . or at least to see me open her container of Meow Mix Tuna and Shrimp. Of course she has her dry Meow Mix all the time so she wasn't really that hungry. Also gave her a big squirt of whipped cream, her favorite.
Then after cleaning Karma's litter box, I read for a while before heading back up to Seabrook to wait for Jan's call that she was partied out. Which came about 9:45.
After getting a group photo,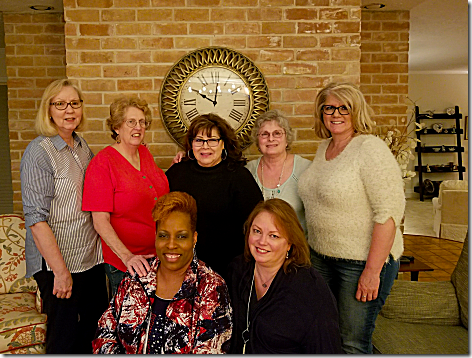 and saying our goodbyes, we were on our way back to Katy, getting there around 11:30.
Later Jan and I were sleeping soundly until about 2:30am when a thunderstorm moved in and parked right over us. But it wasn't the storm that woke us up.
It was the 140 pound Black Lab Miss Kitty, who terrified of thunderstorms, decided to join us . . . by knocking open the bedroom door and leaping onto the bed with us. And snuggling down between us, whimpering.
Luckily for us, Baxter could have cared less, otherwise it could have gotten really crowded really fast. Finally getting back to sleep, I was awakening about an hour later to a leaking roof.
As least that was my first thought since something wet was dripping on me. Turns out that it was Miss kitty sitting up, and DROOLING on me.
Yuck!
This is how Jan pretty much spent the weekend here at Brandi's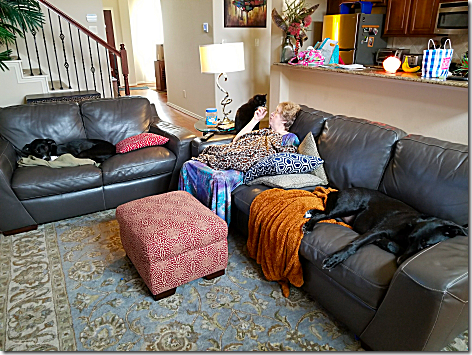 That's Baxter on the left, then Mooshe the cat, Jan, and Miss Kitty on the right. The only thing that changed was Baxter and Kitty swapping places, or fighting over the remaining spot if I sat down.
And even if I did, sometimes Miss Kitty would just get up on the sofa with me, half on top of me.
---
---
Brandi, Lowell, and Landon got home about 2pm, excited and worn out after their fun weekend, so Jan and I headed home about 3. But after my Hot & Sour Soup meal last night, Jan wanted her bowl too, so we stopped off at King Food for an early dinner.
We each had a big bowl of the Hot & Sour Soup with Crispy Noodle Strips,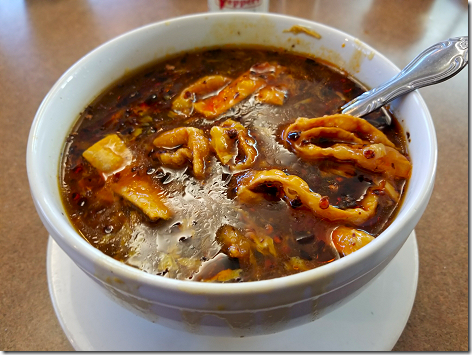 and an order of their delicious Crispy Chicken Wings with Garlic and Butter.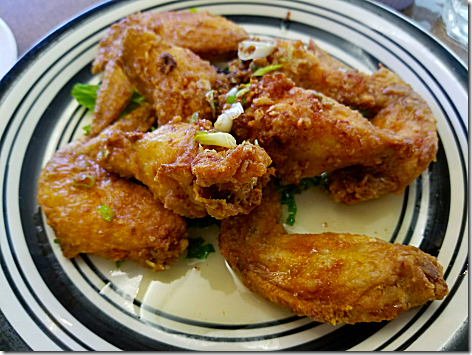 Really, really yummy.
Tomorrow it's back to work.
---
---

The Headline of the Day:
Former Freemason, 51, found drunk and naked inside a huge pipe organ with a toy gun and a remote-controlled police car, says he got lost while trying to hand out cheeseburgers to the homeless.
---
Thought for the Day:
Historically, peace has only been bought by men of war.
gsdfg