Daily Archives:
February 17, 2018
Please remember, Our RV Adventures is an Amazon affiliate. When you do your shopping through any of the Amazon links here, including the Search Amazon box in the right sidebar, it won't cost you any more, but we'll get a small commission on everything you buy. Just click on the Amazon link, then shop as usual. Thanks.
Plus, many of you are sharing our blog with others using the "Share this:" buttons at the bottom of each blog. Again, Thanks.
---
---
Well, I was hoping that I would have a nice, quiet, rainy day to goof off and do pretty much nothing. At least that was the forecast.
But unfortunately then the sun came out.
Which after all my fussing, whining, and complaining, pretty much obligated me to head outside and install the latest, largest addition to our new awnings. And like a lot of projects, the hardest part turned out to be the easiest, and vice versa.
Normally one of the easiest parts is to first slide the awning fabric into the top frame strip. But because this awning, at 135", was so long I had a lot of trouble getting it in the groove and all the way to the end.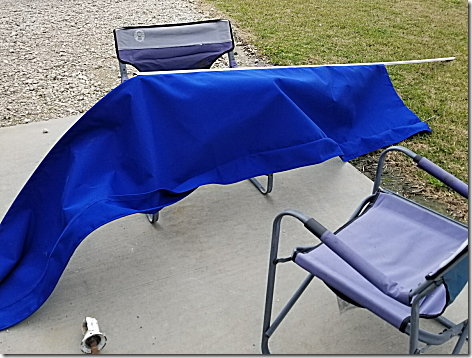 The next part, sliding the frame/fabric combo into the top rail, is normally the second easiest, but again it wasn't. In fact Jan had to hold up the far end using our awning hook to keep it all level.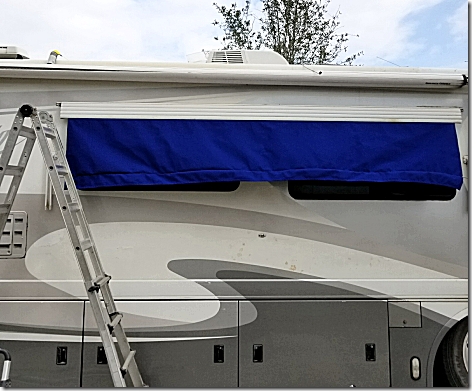 But finally it all slide into place.
---
---
The last part, getting the torque tube onto the bottom of the fabric, is usually the most difficult, but by using the ladder to keep it all even, it slide on with no problem at all.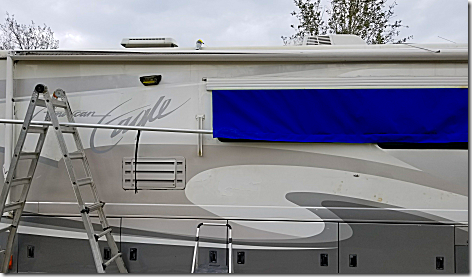 Finally I wound up the spring ends and installed them on the swing arms, and I was done, ending up with this.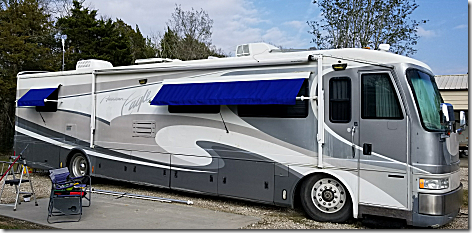 So now I have only last one, over the slideout window, and I'll be finished.
Jan said she was unsure about the color when we started this, but now that she actually has seen it in action, she really likes the look.
Done with one project, I was on a roll, so before I wrapped for the afternoon, I installed the new Rain-X wiper blades that I picked up at WalMart the other day.
Tomorrow we're heading up to Brandi and Lowell's new place in Katy, meeting up with the whole family for lunch. Really looking forward to it.
---
---

The Headline of the Day: Flight diverted after passenger refuses to stop FARTING.
---
Thought for the Day:
Nothing slows down a lawbreaker like a new law.
dfgsdfg