Daily Archives:
February 18, 2018
Jan and I left the rig about 10am for our trip up to Brandi and Lowell's in Katy. We were all getting together, along with Chris and Linda, to check out Brandi's new house.
---
---
They moved into this rent house this past January after they sold their other one.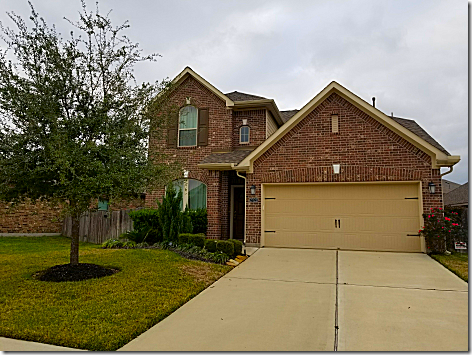 They're going to spend the next year looking for a new one, maybe a one story, but definitely with a larger back yard, or at least a pool-sized one.
Unfortunately Miss Piper didn't make it this time, but hopefully we'll catch up with her soon.
Lowell picked up roasted chicken and all the fixin's from a place over on Mason Rd. called Pollo Bravo. The fixin's consisted of Yucca Fries, Sweet Plantain Chunks, Rice, Beans, and Avocado Salad. And a really good green sauce that everyone loved. Nice and Spicy.
After a delicious meal, Jan and I got our hugs and headed home about 2:30, getting back to the rig about 3:45pm.
The perfect end to a very nice weekend.
We've had a number of nice comments and emails about our new awnings, and we're really happy about how it turned out.
I was looking at photos I took back in Conroe when we first started seriously thinking about doing this. I wanted to get some idea on it would look like.
So I took this photo of the rig with the old, drilling-fluid-stained awnings.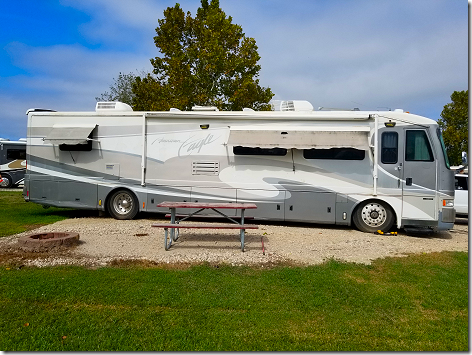 ---
---
Then I used my Photoshop clone program to replace the old awnings with the new ones. I used a color that I had seen online and hoped to use.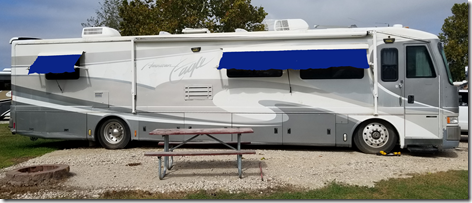 And I was surprised to look back and see how close I came.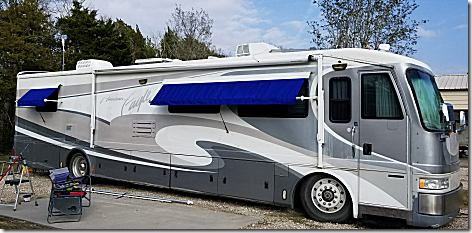 Pretty close, I think. Of course I still have one more to go over the slideout on the other side.
I ordered some new headlight bulbs from Amazon this evening that should be here on Wednesday. For the past 10 years or so I've used the Sylvania Silver Star Ultra halogen bulbs, but this time I decided to bump things up a notch and go full-on LED.
Based on online reviews, and over 2500 Amazon reviews (4.3 out of 5) I went with these Cougar Motors versions.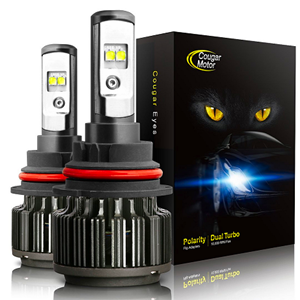 Cougar Motors 7200 Lumen Headlight bulbs
They're over 200% brighter than standard halogen bulbs, but still within the legal limits. And for cooling, they have a solid aluminum heat sink base and a built-in cooling 10,000 rpm fan. In addition to being waterproof, they're supposed to last at least 50,000 hours.
OK, so let's see. 50,000 hours divided by, maybe, a half hour a day average, gives you a100,000 hours. Or over 11 years.
So if I'm still driving when I'm 80 years old, I still won't need new bulbs.
Nice!
I just hope my warranty is as good as the bulb's.
---
---

Thought for the Day:
"Life is so much simpler when you don't really know what's going on."
adfasdf