Daily Archives:
February 4, 2018
Please remember, Our RV Adventures is an Amazon affiliate. When you do your shopping through any of the Amazon links here, including the Search Amazon box in the right sidebar, it won't cost you any more, but we'll get a small commission on everything you buy. Just click on the Amazon link, then shop as usual. Thanks.
Plus, many of you are sharing our blog with others using the "Share this:" buttons at the bottom of each blog. Again, Thanks.
---
---
Catching up with yesterday, Jan and I left the rig about 5:30 for our evening out. The first stop was for dinner right up the road at Pho 20.
We both started out with our favorite House Crunch Salad with their delicious home-made Miso Dressing.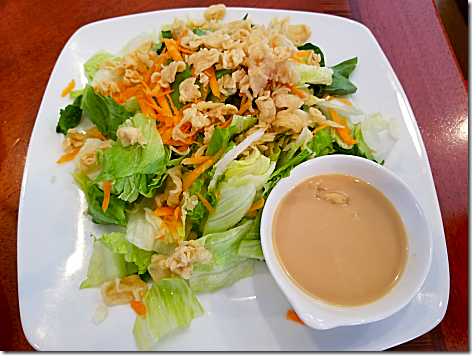 Then we split an order of Shrimp Spring Rolls,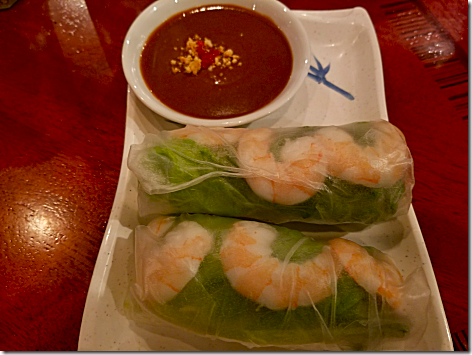 and I tried a bowl of their WonTon Soup for the first time.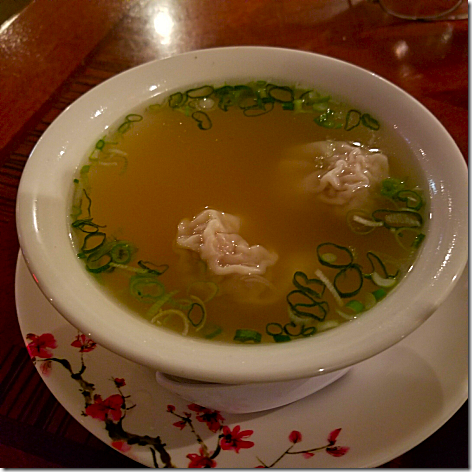 And I'll have it again. A very fragrant broth, with the wontons filled with a mixture of pork and shrimp. DELICIOUS!
---
---
Finishing up we headed up to Pearland and Billy's Hall to see Tony Booth and many others at Tony's Birthday Bash.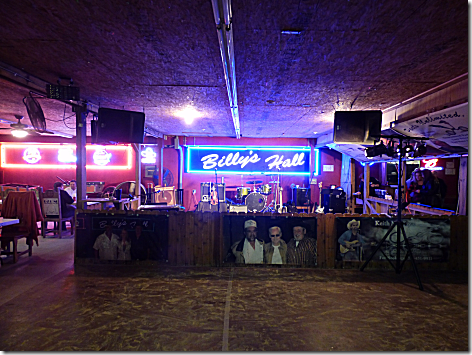 We did enjoy catching up with many of our old Alvin Opry friends that we haven't seen in a number of years since the Alvin Opry shut down.
We had a great time, but but had to listen more than we observed, since this was our view of the stage a lot of the time. And if you ask them to sit down, more just took their place.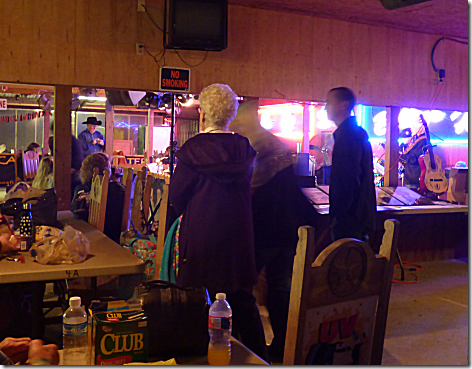 But we did get to see Tony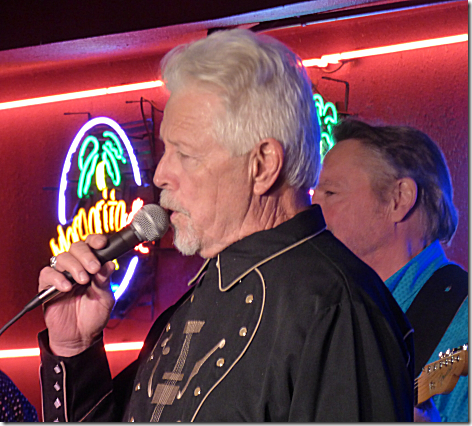 and several of our other favorite singers.
Hopefully we can do this again soon at another show.
Sunday started off quietly before we left the rig about 1:20 to meet our friends Jan and Dale Thompson at Stomp's Burger Joint over on TX146.
My Jan got her usual Outlaw Burger with Cheddar/jack blend, picante sauce, diced & grilled jalapeños, onion, lettuce, tomato, and mayo.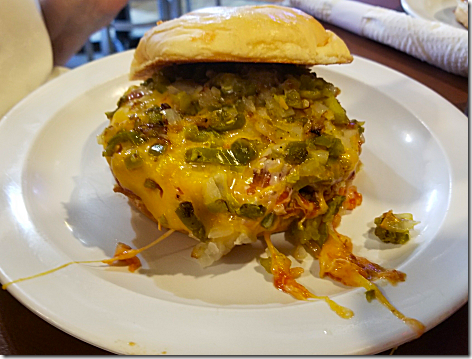 Dale's Jan went to the sweet side with the Jezzabelle Burger, with Cream cheese/ raspberry chipotle sauce, lettuce, and mayo.
Dale and I both got the Hog Wild Burger with a patty with bacon blended in , cheddar/jack blend, lettuce, tomato, onion, pickle, and mayo.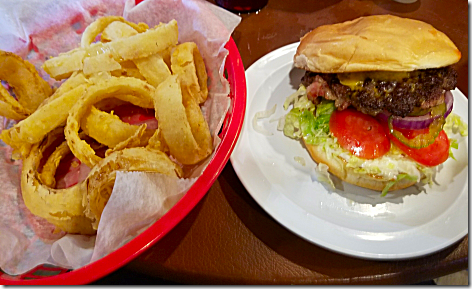 Of course all these burgers come with a 8oz hand-formed Angus Beef patty.
And of course you can't go to Stomp's without getting an order of their fantastic Onion Rings.
We had a great time once again getting together with Jan and Dale, and will do it again soon.
Finally heading up to Webster, Jan got her hair done at the local SuperCuts with her favorite stylist. Then it was off toward the WalMart on El Dorado. But we passed a Jiffy Lube along the way that wasn't busy so I decided to get my oil changed.
But never again at Jiffy Lube. The last time I got my oil changed was in Rapid City, SD this past summer, and I think it was $$34.99 at a local oil change chain.
But I would had swallowed my gum if I'd been chewing gum when I went to pay up here. It was $77 and change.
The oil change itself was $66.99, but to really rub my nose in it, that price DID NOT include the filter and the oil itself.
The filter was $5 and the high mileage oil was $6.99.
So I paid a couple of guys $67 to unscrew and screw back in the drain plug, and to pour oil in the top. I guess that's why there were no price lists around on the walls.
I think the last time I used Jiffy Lube was about 3 years ago when it was around $35 so I expected it to be more this time, but not twice as much.
OUCH!
After we finished up at WalMart and were on the way home, we stopped off at Jason's Deli for a salad for Jan's lunch tomorrow.
---
---
The Word of the Day is: Blench
---

Thought for the Day:
Nothing quiets a room like a 12ga. chambering a shell.
asdfasdf