Daily Archives:
February 7, 2018
Jan had her checkup this morning, first to take X-rays to see if anything remains of her recent kidney stone, and then remove the stent if the stone appeared to be all gone.
---
---
But it wasn't all gone. Unfortunately a large chunk was still there. So the decision was to either do another lithotripsy, which might or might get all of it once again, Or be a little more invasive and use an internal laser to blast it to dust.
Since the laser is 100% effective, and the effectiveness of the lithotripsy depends on the density of the stone, Jan decided to just get it over with.
So she has her Pre-Op this Friday and the procedure next Wednesday. And hopefully that will be the end of it.
Leaving the doctor's office we head over to the nearby Sam's to pick up a few things. Going down one of the rows I came across this.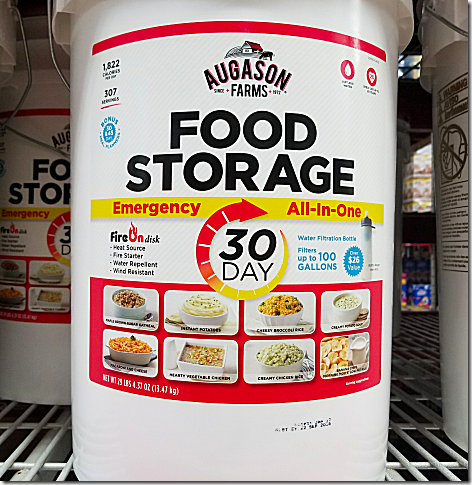 It's a 25# bucket that holds 30 days of meals for one person at 1800+ calories a day. Just add water. And it also includes a stove and a water filtration bottle. Costing $99 that makes it a little over $3 a day.
Not bad and the meals look pretty good. Heads up to all you preppers out there.
After Sam's we went next door to WalMart for a bunch of stuff. And after criss-crossing the store a couple of times we were both kind of pooped so we sat down at one of the benches next to the Customer Service area for a couple of minutes.
---
---
Just as we were getting ready to head out to the truck a lady walked by glancing at us. Then she stop and came back.
"Are . . . are you Greg White . . . and Jan?"
My first thought was that she doesn't look old enough to be an old girlfriend, so that's OK. So maybe they finally got my picture up on the Post Office wall?
But she then cleared things up by saying, "We read your blog."
Whew!
Turned out to be a nice lady named Arlene Harrison, who along with her husband David, have been reading the blog for about a year.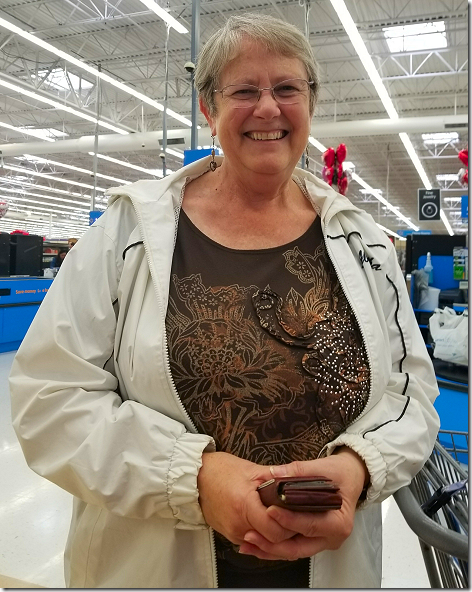 And it turns out we have a lot in common, just a little behind us. They're also full-time RV'ers, but for 9-1/2 years to our 10. And they're getting ready to celebrate their 50th wedding anniversary, where we had ours back in September.
And they're going to be spending a month in Rapid City, SD this summer, where we spent 3 and a half weeks last summer.
Hope she and David will keep in touch.
A little after 4pm we drove over to the Jimmy Changas on i-45 to meet up with Chris and Charles Yust for dinner. And after a great meal, and talking until the place started to fill up, we all went back to Chris and Charles' RV and talked some more.
And we'll do it again tomorrow when we meet to spend some time down in Galveston.
Really looking forward to it.
---
---

The Word of the Day is: Lenity
---

Thought for the Day:
If you can no longer accept the things you cannot change, then maybe it's time to change the things you cannot accept.
dfgsdfgs