Daily Archives:
February 8, 2018
We were out the door about 9:30 heading down I-45 to the Oasis RV Park to meet up with our friend's Chris and Charles Yust and their beautiful Integra RV.
---
---
We were planning to spend the day in Galveston starting with breakfast at the The Sunflower Café, one of our favorite places on the Island.
I mean, where else can you get Oyster's Benedict, Quail and Eggs,
But Chris is the only one who walked the wild side, getting the Breakfast Quesadilla. With Guacamole, Apple Smoked Bacon, Havarti Cheese, along with 3 eggs and all grilled up between two large flour tortillas, Chris said it was delicious.
Charles, Jan, and I all went plain with the Little Breakfast. Two eggs, Bacon, Ham, or Sausage, Fried Potatoes, and homemade Jalapeno Cheese Bread made a great breakfast.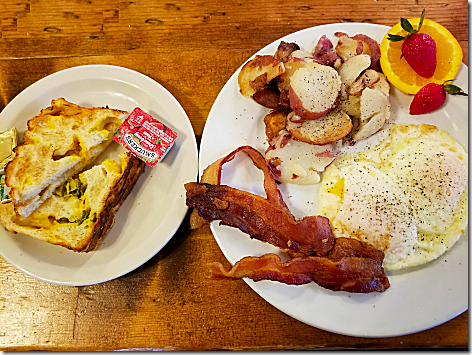 Finishing up, we drove down to the Bolivar Ferry Terminal and got in line. The ferry was just unloading so it was only a few minutes until we were boarded and pulling out.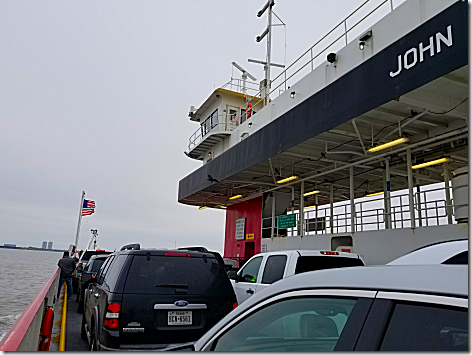 Along the way we passed the other ferry coming in. On a light day like this they were only running ferry's, but if they're really busy they can run as many as five.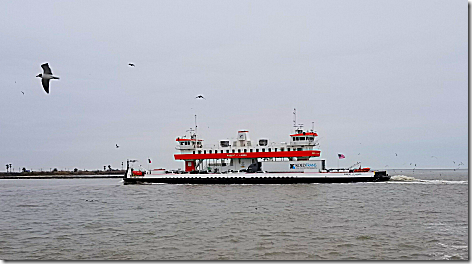 ---
---
And of course there are always birds following along feasting on the krill and small fish stirred up by the ferry's passing.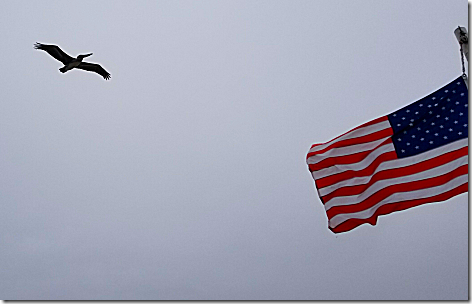 Over on Bolivar we drove out about 20 miles, checking out RV parks and the homes, most of which had to be rebuilt after Hurricane Ike in 2008. We finally turned around at Rollover Pass and the 200 foot wide canal cut through the narrow isthmus, connecting the Gulf of Mexico, the Intracoastal Waterway, and East Bay on the other side.
I was intrigued to find out that the spot has been called Rollover Pass since the days of Spanish rule in the area. Before the canal was cut through in the '50's, it was just a narrow strip of land separating the Gulf and East Bay, narrow enough for smuggler's to be able to 'roll over' their barrels of whiskey, rum, and other goods from one side to the other, thus avoiding the customs offices at the Galveston port. And this 'shortcut' was still in use during Prohibition.
Getting back on the island, we drove a ways down the Seawall until we finally headed back to the Oasis RV Park, getting there about 3pm.
Chris and I then spent the next few hours going over her laptop and straightening out some problems she's been having. Then about 5:30 we all headed up to Floyd's Cajun Seafood to have our last dinner together.
Then after a delicious meal of Gumbo, Fried Catfish, and Grilled Catfish, we finally said our goodbyes until later this summer when we plan on visiting them down in Ft. Myers, FL. They leave tomorrow morning on their way back there.
Tomorrow Jan has an 8:30 Pre-Op appointment at the hospital, prepping her for her laser procedure next Wednesday. Another early morning.
Thought I'd post this. It's one of the last photos from Elon Musk's Starman cruising in his red Tesla shortly before it blasted off out into the solar system.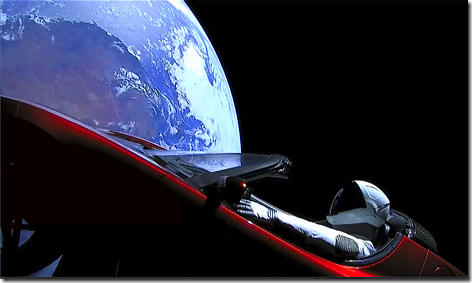 ---
---

The Headline of the Day: COPS: Man Beats Roommate Over Stale CAP'N CRUNCH.
---
Thought for the Day:
According to the Flat Earth Society's website, "The Flat Earth Society has members all around the globe."
Think about that for a minute.
asdfadf