Daily Archives:
February 28, 2018
Please remember, Our RV Adventures is an Amazon affiliate. When you do your shopping through any of the Amazon links here, including the Search Amazon box in the right sidebar, it won't cost you any more, but we'll get a small commission on everything you buy. Just click on the Amazon link, then shop as usual. Thanks.
Plus, many of you are sharing our blog with others using the "Share this:" buttons at the bottom of each blog. Again, Thanks.
---
---
Jan had her follow-up appointment with her urologist this morning, hoping to get her stent out and be done with all this. But her 9am appointment started to go downhill pretty quickly. They didn't even know she had an appointment.
Well, we had a print-out that said she had an appointment on 2/28/18 at 9am. Then the nurse somewhat sheepishly admitted that the doctor sometimes forgets to actually 'record' the appointments he schedules.
But Jan finally got called in about 10:30 and we were out the door by 11am. And unless something else comes up, she's done until her six month checkup the end of August.
Yay!
Done with all this, we decided to have brunch at the nearby The Egg & I Breakfast & Brunch place. Though it's one of our favorites, the last time we ate here was almost exactly 3 years ago. Too long!
---
---
But rather than go with some of their fancier dishes, like Crab Cake Benedict and a Spinach Bacon Mushroom Omelette, we both went basic with their Two Egg Breakfast with Bacon. Jan's with a Belgian Waffle, and mine with a fruit cup.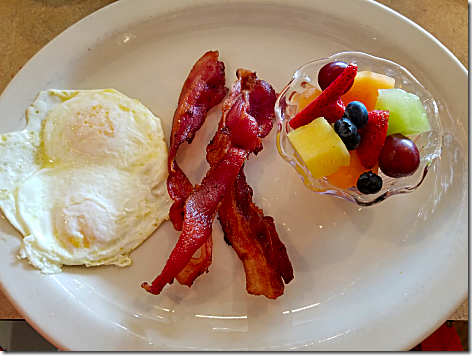 Both delicious, but I think our favorite is their really good Hazelnut coffee. And they leave the pot on the table. Even better.
Finishing up, it was back home for the rest of the afternoon, mostly just goofing off, but I did take care of a few things around the rig. I cleaned the filters on both AC's, mostly because with this warm spell, we're running the AC's again.
I want my winter back.
After being offline for over 24 hours, our USPS Click N Ship software finally started working yesterday. Don't know what happened but we hope it doesn't happen again anytime soon, since it puts a real crimp in getting shipments out.
If nothing else comes up, I'll probably drain and flush our water heater tomorrow. With everything going on I skipped it last year, so I want to get it done before we start traveling again in a few months.
I remember the first time I flushed it was after our first year on the road in 2008. I got so much gunk out of it that I was positive it had never been done in the eight years before we owned the rig. And I think our hot water capacity doubled after I was finished.
---
---

The Headline of the Day:
COPS: Man Tries To Rob 7-Eleven — By Pointing Finger Gun At Clerk.
---
Thought for the Day:
Stupidity kills. Sometimes just not often enough.
dfgsdfg