Daily Archives:
February 6, 2018
Please remember, Our RV Adventures is an Amazon affiliate. When you do your shopping through any of the Amazon links here, including the Search Amazon box in the right sidebar, it won't cost you any more, but we'll get a small commission on everything you buy. Just click on the Amazon link, then shop as usual. Thanks.
Plus, many of you are sharing our blog with others using the "Share this:" buttons at the bottom of each blog. Again, Thanks.
---
---
We met up with our long-time friends, Chris and Charles Yust, who are on their way back from Quartzite, AZ to their site in Florida. They're staying at the Oasis RV Park down in La Marque, which was the very first RV park we stayed at after we bought our rig in 2007.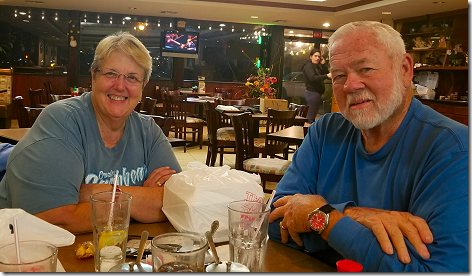 We bought our rig at Roman Holiday Motorhomes in New Braunfels, TX on December 27th, 2007. Then we picked it on January 6th and came back to the Oasis Park. We stayed there, getting ready to go full-time. Then on February 6th we headed to Alaska . . . by way of Casa Grande, Yuma, Los Angeles, Las Vegas, Flagstaff, Phoenix, Tucson, Albuquerque, Santa Fe, Colorado Springs, Casper, Billings, Garrison, Coeur d'Alene, Cle Elum, and then into Canada just north of Bellingham at Sumas. Whew!
And on April 26th we were in Fairbanks until September 20th.
---
---
We got to King Food a few minutes early, so since they take awhile we went ahead and ordered two plates of their delicious Crispy Chicken Wings with Garlic and Butter while we were waiting for Chris and Charles.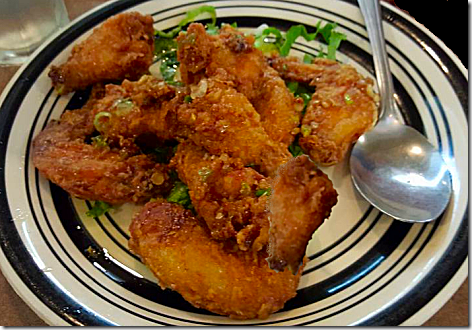 Luckily they liked them as much as we do. In fact said they were the best wings she'd ever had.
Everyone got something different for their entre. Chris got the combo Lo Mein, while Charles went with the Sweet & Sour Chicken.
Jan got the Chicken with Hot Garlic Sauce and Jalapenos,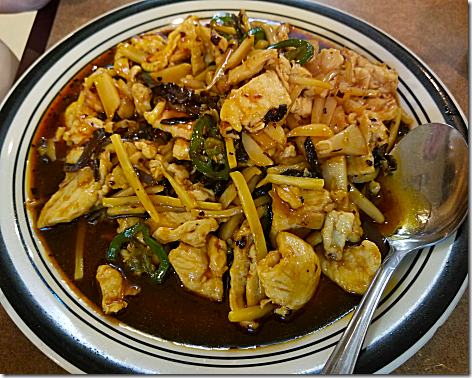 We spent the next couple of hours talking over all our adventures.since we say them last. And we're getting together tomorrow at Jimmy Changas for Mexican.
Tomorrow Jan has her makeup checkup with her urologist that was put off from last Thursday when there was an equipment malfunction.
---
---

The Headline of the Day: San Diego Girl Scout Sells Over 300 Boxes of Cookies in 6 Hours Outside Marijuana Shop.
Well, duh!
---
Thought for the Day:
sdfgsf