Daily Archives:
December 2, 2019
All's happy in the White household again. My Sweetie's back home. I drove up to Katy to pick her up yesterday afternoon, and with perfect timing, arrived just a few minutes after Brandi, Lowell, and Landon got home. And since we hadn't had Mexican in a week or so, we stopped off at Los Ramirez. Mexican Restaurant once we got back to the Santa Fe area.
And I guess I could say we had a good run at Los Ramirez. They had big signs on their windows saying they had 'New Menus'. And they did.
But no new menu items stood out. What did stand out was the price increases.
Jan's favorite Pechuga Rellana,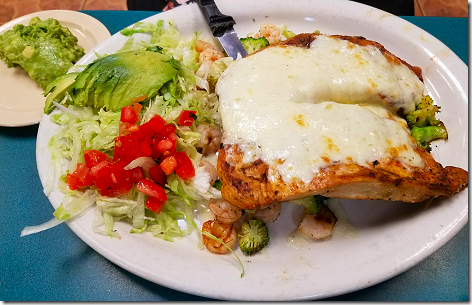 went from $10.99 to $12.99. Not bad really.
But the one that hurt was my Beef Fajita Taco Salad,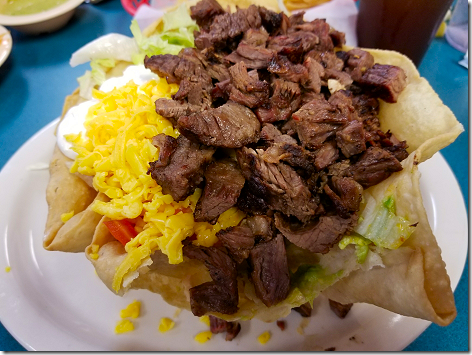 which on the Lunch Menu was previously $5.59. A really great deal.
But the 'new' price is now $9.95.
OUCH!
But still a pretty good deal, just not a great deal anymore. Of course we'll still go back.
Today was really busy, due to missing a bunch of days, first for our Kingsland trip, and then the rig breakdown and repair. And then of course we'll leaving for NYC in a couple of days. So a lot of catching up was needed, as well as prepping for our trip.
And in more trip news, it looks like there's a good chance that we'll have a White Christmas in NYC, with multiple inches due in the next day or so, while it should clear for our flight up there on Thursday.
The best of both worlds.
Catching up with some of the many oil leak comments, a couple of our readers suggested to add a dye to our rig oil to see if I can see where it's leaking from. I did think about this, but because of the way the oil is just blown all over I'm not sure I could really see exactly where it's leaking from. But I'll keep it in mind.
Several people, including Jan, thought I should get back in touch with Dix Diesel Center to complain that they didn't fix the oil leak. But here's the problem with that.
Let say I do call them. If I were them, I would ask me to bring the rig back so they could look at it again. But now we're looking at a 350 mile round trip and another expensive multi-day hotel stay.
Plus they would almost certainly run into the same problem I did. The only way to test to see if the leak is fixed is to hook up the toad and tow it for 50 miles or so. For example, when I moved the rig over to the River Bend RV Park after I picked up the rig from Dix, a distance of about 3 miles, I saw no sign of any oil leaking. And I checked.
So let's say I just call them and ask for my money back. Again, if I were them, I'd ask me to bring the rig back so that they can confirm that the leak wasn't really fixed. I mean, maybe I'm just trying to con them.
And the testing is a major problem, since the leak only seems to occur when we're towing.
And this fact complicates my thought to just bite the bullet and take it up to the Cummins dealer north of Houston, and then stay in a residence hotel down here. But unless we leave them the truck, how do they test it?
I guess we drive could back up there every time to try it out, but that would be a PITA, for sure.
So, as I said, I'm still thinking about it.
---
Thought For The Day:
The Curse of Intelligence: Having to watch morons try everything that you know obviously won't work.
jjfh