Daily Archives:
December 5, 2019
The day couldn't not have gone more perfect.
We were up at 3am, our car service guy showed up about 4:15, and we were on our way up to Hobby Airport by about 4:30. Right on schedule. And I didn't forget my camera or laptop this time.
We got dropped off at the Southwest entrance a little after 5am, and we tagged and checked in our 3th suitcases a few minutes later.
One thing nice about this flight is that, unlike our recent European flights, we could check in 2 bags each, not just one. So we had no carrying-on stuff, other than Jan's large purse and my laptop bag.
The only problem was that our online check-in got screwed up and we ended up boarding in the last group. So by that time there were only center seats left so we couldn't sit together. But it was a nice smooth flight and we actually got in at 10:50am (9:50CT), 5 minutes early.
Probably because we were doing almost 600 mph.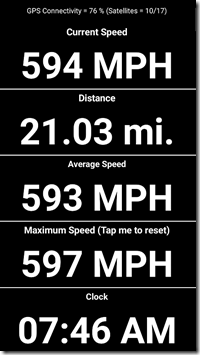 We had to wait about 15 minutes for our luggage, and while we were doing that, an enterprising Skycap came by and asked us where we were going. I told him that we were going to get a taxi or Uber to a hotel near Times Square.
Now there were signs all over the baggage area that due to the ongoing construction of a new terminal at LaGuardia, you had to take a shuttle bus to a place about 15 minutes away where you could then get a taxi or an Uber. When I mentioned this to him, he said this was not necessary and he could take care of this for us.
Kind of wary of the City Slicker swindling the Country Rubes, I asked how much this would cost and he said he just worked for tips. And since he had his own luggage cart, I didn't have to rent one for $6, so I told him OK.
So he grabbed our 3 suitcases when they came around the carousel and off we went. Jan, of course, was somewhat suspicious.(make that VERY suspicious) but gamely followed along, knowing at any minute we were going to be ravaged and pillaged.
After about a block we turned a corner and there was a long line of people waiting for one of shuttle buses. Positioned around were electronic signs saying the wait for a taxi or Uber at the other end of the shuttle ride was 55 minutes. And based on the length of the line on this end, it was going to be at least 30 minutes here.
Resigning ourselves to the wait, we started to get in the long line, but he shook his head and motioned us to follow him. And since he was leaving with our luggage, we decided to follow.
He led us around the outside wall of the covered shuttle waiting area, past several policemen, who nodded to him (made us feel better), and then across the street. There, behind a police barricade, was a line of Yellow Cabs being waved forward, one by one, by another police officer.
Our SkyCap put our luggage in the truck, I tipped him, and we were on our way, less than 10 minutes after we got our luggage.
And less than an hour later he was letting us off at the Hotel Riu Plaza Times Square, about a block and a half off Times Square. And even better, our Uber ride was listed on the app as being about $80, but our taxi ride was only about $60.
Very, very nice.
Checking in, we were told our room was ready, and we ended up with a very nice room on the 25th floor, with an open balcony that we can walk out on, with a great view.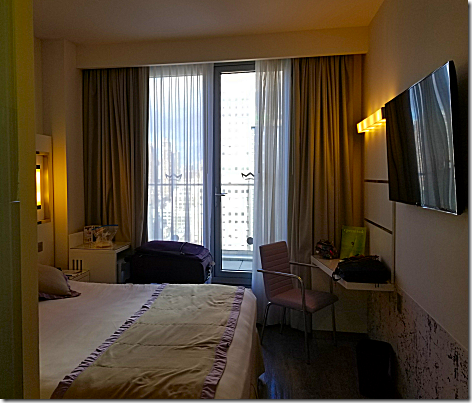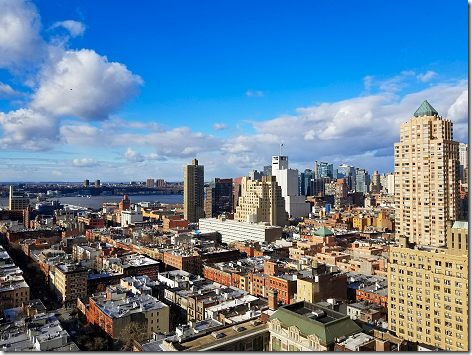 Even better, though we knew our room came with a full breakfast buffet, we were happily surprised that it also came with their full dinner buffet. Which is advertised as being $35 per person if you had to pay for it.
Neat!
Then it was, of course, time for a nap.
About 3pm we made the 2 block walk over to Times Square to check things out, and then headed over to Junior's Restaurant, just about a half block off Time Square
Jan got their version of the her fav Wedge Salad,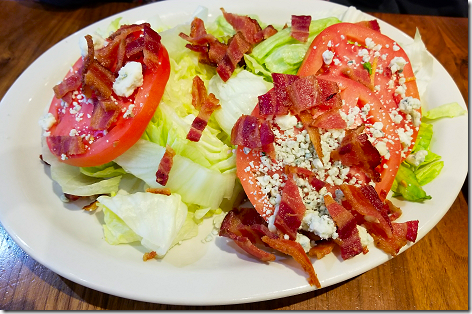 while I got their 10 oz. Steakburger,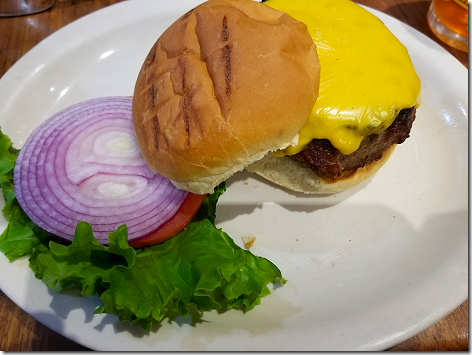 which we then split with each other.
This was to leave us room to Jan's Chocolate Mousse Cheesecake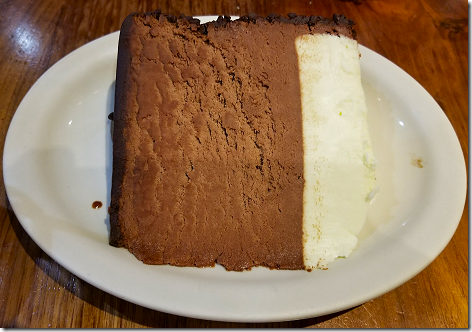 and my Carrot Cake Cheesecake.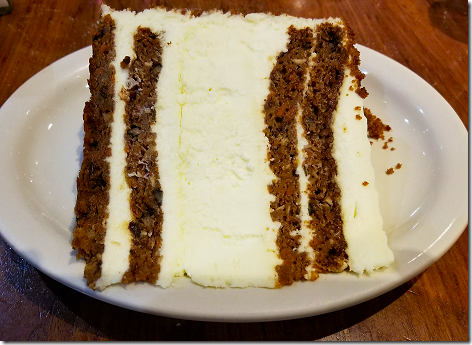 And of course you can't have Junior's World-Famous Cheesecake without a nice hot Cappuccino to go along with it. Especially when it's 39 degrees outside.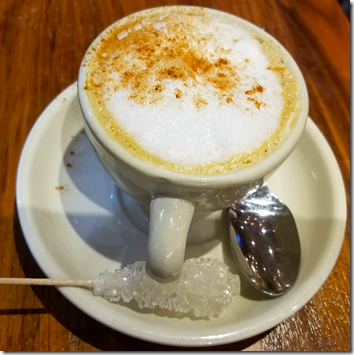 We ate several times when we were here in 2009 and really loved it, so it had to be our first place to eat when we got here again.
By the time we finished it was getting dark here (about 4:30 here in the ET) so we walked back out to Times Square to check out the lights.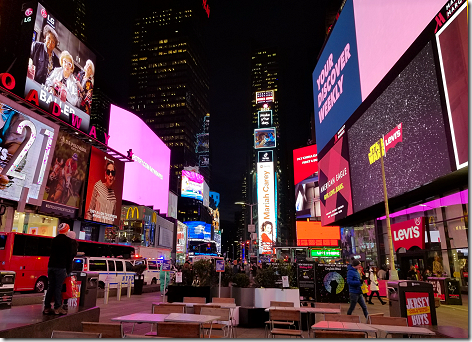 One big change we noticed since we were here in 2009 was that Broadway is now open to traffic.
But when we were here in 2009, Broadway was closed to traffic for many blocks in each direction, as you can see here.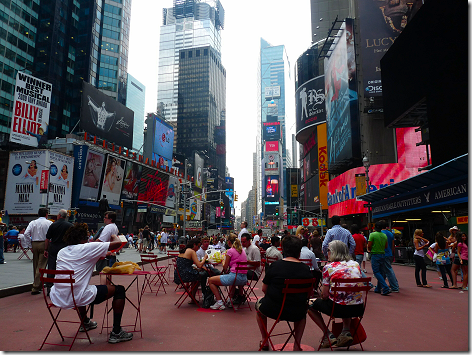 It was a little warmer then, too. It was about 36 degrees when we sat out for a while this evening.
Getting back to the hotel after about ten minute walk, we checked out the view from the 25th floor at the end of the hallway.
That's our balcony and room behind the railing on the right.
---
Thought For The Day:
The Four Stages of Life –
1. You Believe In Santa Claus
2, You Don't Believe in Santa Claus
3. You ARE Santa Claus.
4. You Look Like Santa Claus
HO! HO! HO!
asdf